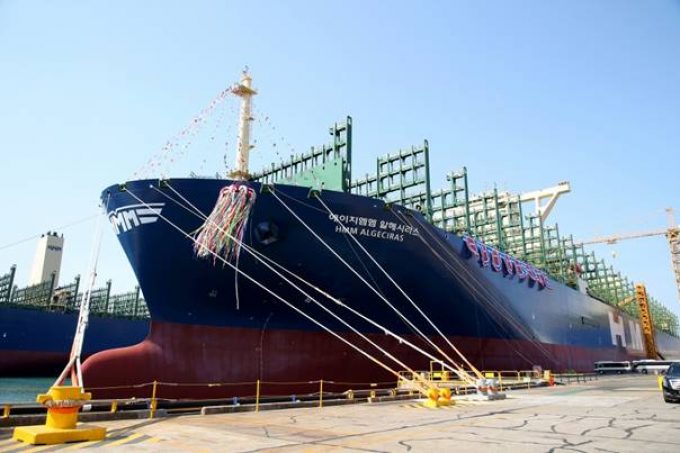 Korea Ocean Business Corporation's efforts to raise funds to build South Korean flagship liner operator HMM's 24,000 teu ships have borne fruit, with all 12 vessels now on the water.
Speaking at Marine Money's online Korea Ship Finance Forum yesterday, KOBC's head of HMM's financial support team, Mr Bae Jong Yoon, recounted how the state-backed ship finance provider was formed in 2017 to support the economy by strengthening the competitiveness of the country's shipping companies.
HMM had escaped bankruptcy after renegotiating its long-term charter payments and securing a debt-for-equity swap with its creditors. To normalise its operations, HMM needed to have ultra-large container ships in its fleet to better compete against larger mainline operators, but the company lacked funds.
Mr Bae said, "From 2018 to 2019, Korean shipping companies' creditworthiness was very low and didn't meet market requirements. Investors also hesitated to participate in the 24,000 teu newbuilding project because globally, they worried about large container ships that they had never seen before."
In my memory, many investors generally didn't like to participate in ship finance, especially in Korea, after Hanjin Shipping collapsed."
Eventually, funding for HMM's dozen 24,000 teu ships, which were ordered from Daewoo Shipbuilding & Marine Engineering and Samsung Heavy Industries in 2018, was successfully closed after KOBC promoted collaboration between itself and commercial banks, pledging to fully guarantee the junior debt. The newbuilding price was not disclosed but was estimated to be around $167 million each then.
All 12 vessels are now sailing around the world and were delivered in time to achieve record profits for HMM as the container shipping industry heads towards a second year of historically high earnings amid a spike in freight rates.
KOBC is now HMM's second-largest shareholder, after exchanging convertible bonds into shares to raise its stake to nearly 20%.
Mr Bae said, "Despite Covid-19 pandemic, the shipping industry is experiencing an unprecedented boom. Especially shipping companies which operate 24,000 teu ships, they are making huge profits based on their competitive structure."