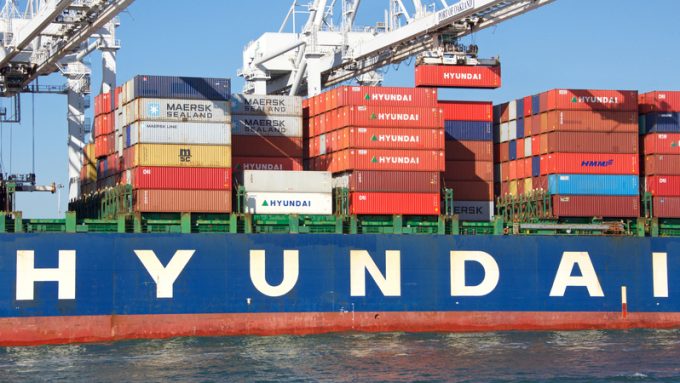 Despite a decline in fourth-quarter revenues, South Korean carrier Hyundai Merchant Marine (HMM) saw annual sales last year increase by 5.6%  a return to profitability in Q4.
It said its 2019 revenue was KRW5.5trn (US$4.72bn), while its operating loss narrowed 45.6% to KRW304bn, as it prepares to join THE Alliance and begin deploying its new series of ultra-large container vessels (ULCVs) at the beginning of April.
The reduced operating loss represented a substantial improvement for the company on the KRW558.7bn ($479m) of  ink in 2018.
However, while Q4 revenue declined 6.4% to KRW1.35trn, due to "bearish market conditions and weakening freight rates", it said higher utilisation levels had helped it improve its balance sheet in the final quarter after it posted an operating loss of KRW38.9bn (US$33m) – which represented a 40.8% improvement over 2018's final quarter operating loss of KRW65.7bn ($56m).
In its outlook for this year, HMM said: "In 2020, uncertainties stemming from the outbreak of the COVID-19, rising concerns over global economic downturn and the impact of US-China trade conflict are weakening the prospects for rises in trade volume.
"HMM will focus on increasing profitability by providing differentiated value-added services and improving its business structure through managerial innovation including its full commitment to digital transformation," it added.
And while it prepares to end its slot-sharing agreement with the 2M partners to join THE, its compatriot SM Line was today seen to have signed a deal with Maersk and MSC to share space on a number of transpacific services.
According to MSC, the agreement "is separate from the 2M vessel sharing agreement between MSC and Maersk, and the services of 2M and SM Line will complement each other. It consists of a combination of slot exchanges and slot purchases among the three parties and it is subject to regulatory approval".
The agreement covers six services, three of which call at the California hubs of Oakland, Long Beach and Los Angeles and three which cover the Pacific north-west ports of Vancouver, Prince Rupert and Seattle.
The agreement will also see the 2M partners retuning to the port of Portland, which was dropped from container carriers' transpacific schedules after a crippling labour dispute in 2016, but returned to operations after SM Line inaugurated its Pacific North-west service this year, on which Maersk and MSC will charter slots.