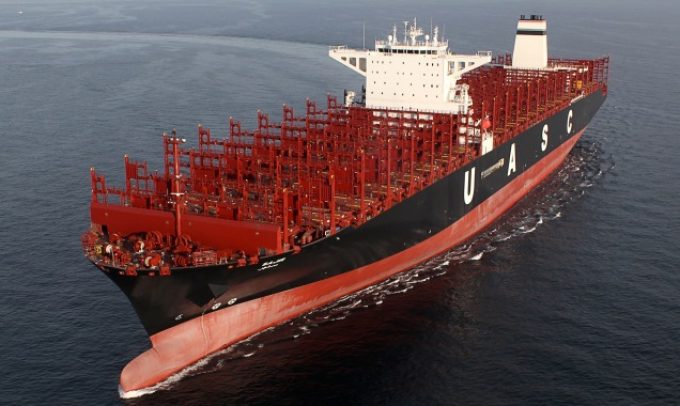 Negotiations on the merger of Hapag-Lloyd and United Arab Shipping Company (UASC) appear to have been successful.
The German carrier told investors today the final hurdle was now the assent of the lines' shareholders.
A statement to Hapag-Lloyd investors this afternoon said agreement had been reached on the terms and conditions of the "contribution of all shares in UASC to Haag-Lloyd".
It added: "Today, the supervisory board of Hapag-Lloyd has approved the transaction subject to the anchor shareholders of Hapag-Lloyd and UASC agreeing to assume the commitments levied upon them in the business combination agreement (BCA)."
Under the proposed terms of the deal, revealed in April, the Arabian owners of UASC will receive a 28% stake in Hapag-Lloyd, with the HQ of the merged carrier remaining in Hamburg.
Hapag-Lloyd has a fleet capacity of around 920,000 teu, ranking it the sixth-largest global carrier, while UASC operates approximately 550,000 teu, ranking it tenth, but this includes a series of ultra large container vessels (ULCVs) that Hapag-Lloyd has so far refrained from ordering. The combined fleet will propel the new entity to fifth in the rankings, just behind Cosco.
According to vesselsvalue.com, UASC has three 15,000 teu vessels due to be delivered from Hyundai Heavy Industries over the course of this year.
According to Loadstar sources, although the two companies have been in negotiations for several months, the stumbling block has been UASC's creditors. The carrier was close to bankruptcy several years ago but was rejuvenated by a $2.1bn cash injection from the government of Qatar.
"That money is now all gone. the line still hasn't made a profit for years and it now owes around 70 Middle Eastern banks a lot of money," one source told The Loadstar.
"These banks are effectively being offered a debt-for-equity swap and are extremely unhappy about it – who wants to hold shipping line shares rather than own Qatari government debt? The trouble is that they are being told to accept the deal or be shut down altogether," he continued.
UASC does not report its financials, but it is understood that the carrier suffered a particularly heavy loss last year, rumoured to be around $500m, as the Asia-Europe market collapsed.
According to the Hapag-Lloyd statement, UASC shareholders are due to vote on the BCA tomorrow: "Further, the conclusion of binding agreements is still subject to the consent of the shareholders of UASC. An extraordinary general meeting of UASC to grant such consent will be held in Dubai on  June 29."