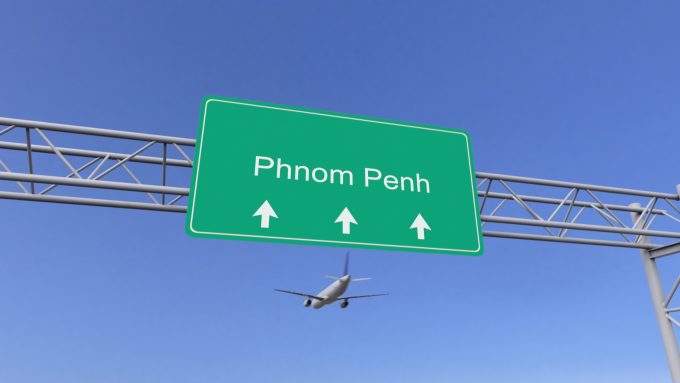 The major Gulf carriers have boosted capacity at Phnom Penh Airport during a strong first-half for Cambodia's air cargo exports.
However, peak season congestion continues to challenge forwarders.
After posting total throughput of 46,000 tonnes last year, Cambodia Airports reported a 34% year-on-year increase in cargo traffic during the first six months of 2017, attributing the growth to a positive economic environment and additional cargo services.
In April, Qatar Airways began a weekly A330 freighter service from Doha. And in June, Etihad Cargo launched its first weekly freighter service from Abu Dhabi, the airline's 15th destination in Asia.
Emirates Sky Cargo launched a dedicated Phnom Penh freighter service in April 2016 and earlier this month inaugurated a daily passenger flight connecting Phnom Penh to Dubai, including a stopover in Yangon, Myanmar. With 20 tonnes of freight per flight, the service replaces the carrier's previous flight connecting Yangon with Hanoi, which now has its own direct connection with Dubai.
Cambodia's air cargo growth continues to be dominated by the country's garments sector, which makes up some 80% of total exports.
According to Kanyarad Julhiran, managing director of DSV Air and Sea, Cambodia and Thailand, Cambodia enjoyed a strong May-July peak season for garment exports to the US and Europe.
"We're experiencing increased air cargo volumes so far this year, and this has been driven by the retail, textiles and garments sectors," she told The Loadstar.
Ms Julhiran explained that, while new services have increased space availability, inadequate infrastructure at Phnom Penh airport and busy weekend schedules still cause capacity issues during peak season when volumes can as much as triple.
"The biggest challenge we are facing for airfreight in Cambodia is capacity and airline space. The airport terminal capacity and equipment is limited, and during peak season the cargo always gets stuck at the terminal for two to four hours to unload from the truck on Fridays and Saturdays."
While Phnom Penh airport has good quality cargo facilities, according to Ms Julhiran, there are only two x-ray machines and a limited number of loading docks, which can cause delays.
"Even when we have several direct freighters coming to Cambodia, like Qatar Airways, Cathay Pacific, AirbridgeCargo, Emirates and K-Mile, there are still many airlines that operate offline exports [using a rival carrier] from Phnom Penh, which does not help to boost the extra capacity required to manage peak season volumes.
"Moreover, Phnom Penh airport currently operates with one runway for both take-off and landing," she added.
As a result, forwarders often need to truck cargo overland to Bangkok where there is more capacity.
"During normal conditions in slack season, where space may not be a big issue, Cambodia pricing is still not as competitive on certain tradelanes, compared with service options from surrounding markets like Bangkok.
"The airlines using passenger aircraft can't uplift all cargo at once due to space limitations; therefore customers, especially international freight forwarders, have a preference to use land-air via Bangkok to access more frequent flights and cargo capacity," Ms Julhiran said.
DSV began operations in Cambodia in January following the acquisition of UTi Worldwide, after having served the country for several years via local agent partners.
According to Ms Julhiran, more international forwarders are entering Cambodia and this is putting downward pressure on rates.
"Now the biggest challenge is we have more international freight forwarders in Cambodia. The pricing is very competitive. And the business is mostly garments manufactured by a handful of big global brands so everyone has to compete on price.
"Our challenge is to continue to meet our customers' requirements and deliver cargo as planned."