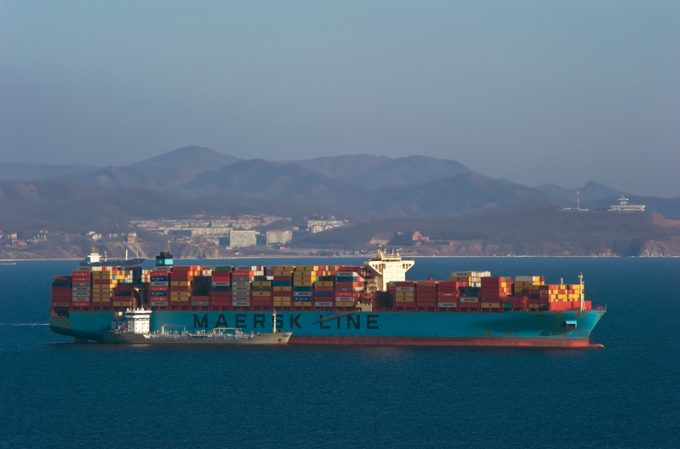 MSC has advised its customers it had taken an "exceptional decision": to cover the costs of repairs, following a fire onboard the 13,492 teu Maersk Elba at the end of December, in order to avoid General Average.
The carrier said it wanted "to avoid additional costs or delays" for its customers.
The 2011-built vessel, deployed on Maersk's AE1 + TP1 and MSC's Shogun + Pearl Asia-North Europe and transpacific loop within the 2M alliance network, suffered an engine room fire off the southern coast of Portugal on 26 December en route from Suez to Felixstowe.
A Maersk spokesman told The Loadstar: "All crew is safe and accounted for. Firefighting was quickly initiated and the fire extinguished whereafter the vessel was safely anchored south of Portugal to assess damages.
"On December 29 a towage operation was initiated to get the vessel alongside at the Port of Algeciras, Spain. Assisted by two tug boats Elba Maersk safely cleared the Strait of Gibraltar on December 31.
"The vessel safely arrived at the Port of Algeciras on January 1 2021 where further repair of the vessel was initiated.
"Maersk Elba is expected to depart from Algeciras on January 22 2021 and will proceed to Wilhelmshaven, Germany, for discharge of the cargo.
"Subsequently the vessel will undergo further repair before reentering service rotation. Customers are being contacted directly regarding contingency planning of their cargo," he continued.
MSC said it understands Maersk is planning to arrange feeder vessels "for onward carriage of cargo from Wilhelmshaven to Felixstowe and Rotterdam".
Hapag-Lloyd, which has a slot charter with the 2M, operating as its FE6 loop, and according to eeSea data charters around 10% of the vessel's capacity, said all its reefer containers had been discharged at Algeciras for relay, with Felixstowe reefers being discharged at Liverpool.
Meanwhile, the slow and complex discharge of damaged containers from the 14,000 teu ONE Apus continues at the Japanese port of Kobe.
The vessel suffered a massive container stack collapse in a powerful storm near Hawaii, while en route to Long Beach, California, on 30 November, losing over 1,800 containers overboard. The ship abandoned the voyage and returned to its flag-state port of Kobe.
Shippers had been warned to expect General Average to be declared, with some estimates putting losses at over $200m. However, The Loadstar understands that the permission of shipowners is still being sought on the status of each container, ie, lost or not lost.
According to marine and transit claims specialist WK Webster, which represents a substantial amount of the cargo on the vessel, the chances of General Average being declared are receding.
Michael Hird, director of UK-based WK Webster told The Loadstar today he thought the possibility of GA being declared "has now substantially diminished", adding that ONE was "now planning for the oncarriage of containers" to Long Beach.
According to another industry expert, the reluctance to declare GA in both incidents was an "interesting" development.
"I suspect the mere logistics of processing GA on large containerships is daunting, let alone the potential for legal challenges to elements of costs that might be claimed," he said.
A quick straw poll of Felixstowe contacts revealed consignees were largely being kept in the dark about the arrival of their containers still aboard the Maersk Elba. One forwarder told The Loadstar he had "no idea" when the containers would arrive.
"We know they will be coming out in Germany, but if recent experience is anything to go by, it could be several weeks before they arrive somewhere in the UK," he said.