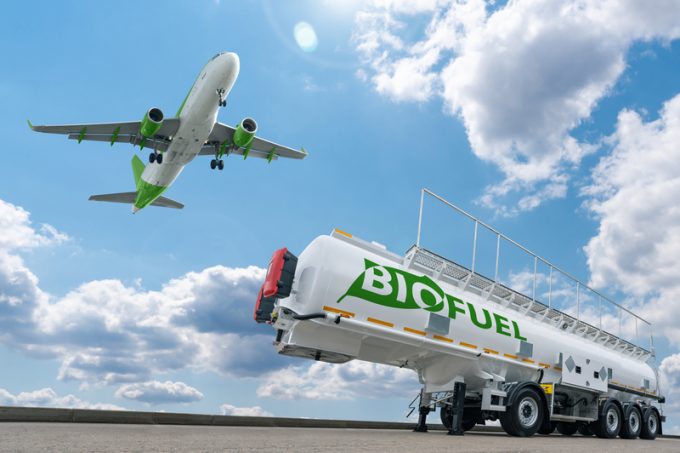 Kuehne + Nagel (K+N) is set to offer all customers a sustainable aviation fuel (SAF) option for all shipments on all flights across all its booking channels.
The option is available regardless of airline or airport and, because SAF produces some CO2 emissions, customers can achieve carbon neutrality by substituting a litre of jet fuel with 1.33 litres of SAF.
When a customer requests a quote, the additional price is instantly calculated and offered as an option.
K+N has also changed the pricing methodology for SAF, which has been quoted on a per litre, or CO2 ton-avoided basis.
Now it is linked to the weight of a shipment and offered on a per kg basis, like rates, and after booking, the volume of SAF from K+N's stocks is credited to that customer, who also receives an authorised certificate for scope three reporting.
The majority of K+N's SAF will come via an agreement with American Airlines signed in March for 11 million litres.
Marcel Fujike, global head products and services air logistics, said the fuel was ready blended and available at San Francisco Airport – but it's irrelevant where it is used, he said.
"The airport doesn't matter – who gets it or where it is burned doesn't matter."
He explained that there was currently sufficient SAF for the scheme, but added: "If hundreds of customers want it, there may not be enough, as the overall quantity is limited, but there is not sufficient demand yet. If the producers see more demand, then they'll make more.
"In 2023, we will see more facilities opening to produce SAF, and we want to show demand, so production will pick up."
He said demand was currently limited, perhaps in part because of today's high cost of air freight.
"Shippers have had a hard time buying SAF as the pricing differential is quite large, and the current frenzy in the market is not helping. But we are quite hopeful that in three or four months we will see more customers opting for it. It will be large customers with emissions targets, but some smaller, green-focused companies will want to as well."
The additional price will depend on the tradelane and the aircraft, but Mr Fujike said, on average, SAF would be between 20% and 60% more than traditional jet fuel, and he added that airlines had been "very supportive".
"They are looking forward to reducing the financial burden for SAF and meeting targets. If they can move the financial burden to customers, then they are happy to."
Some observers have suggested modal shift could be a problem for air freight if it fails to tackle emissions, which in turn could reduce forwarder revenues. But Mr Fujike said air freight would always be used if there was always a demand for "strawberries in December" and K+N was keen to be a first mover.
"If we don't do it, nothing will happen. You need first movers to kickstart it. We want to move to being a low carbon emissions business and work closely with airlines on developing that.
"Most large forwarders are working on similar programmes, and it would be nice if others follow. But we do want to be an innovator and drive a sustainability path."
The SAF currently produced is seen as a first step. It uses waste products, such as cooking oil – but competes to some extent with road transport for the fuel.
"The next step is Bio SAF using alcohol and bio-waste, and hopefully then power-to-liquid, which Lufthansa is working on in northern Germany. But there is at least 10 years to go before it produces sufficient amounts."
Power-to-liquid is a synthetically produced liquid hydrocarbon, made using renewable electricity.
Another early mover, DHL, said today its express division had agreed a deal with Neste for €60m-worth of SAF by mid-2022 at the UK's East Midlands Airport, cutting some 70,000 tons of CO2.
If you want to hear how airlines could be doing more on sustainability, listen to this clip from The Loadstar Podcast