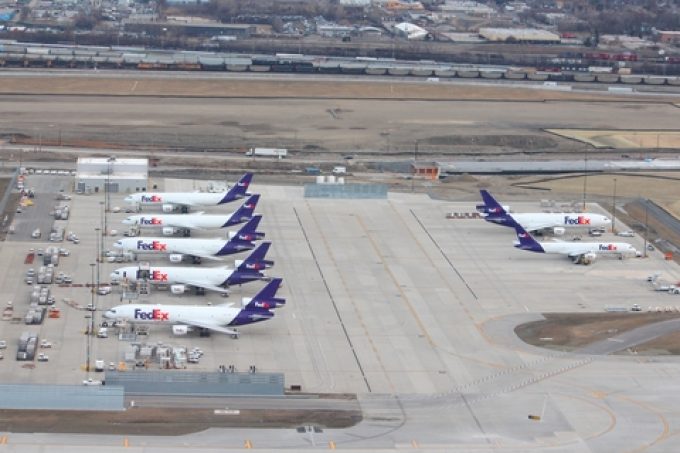 FedEx management is looking to ground more freighters in the current fiscal year as it 'recalibrates' its air network, with a view to relying more on third-party lift.
In addition to five aircraft already taken out of service this autumn, the cost-cutting plan envisages parking 11 more aircraft by the end of its fiscal year on 31 May.
The announcement was made as FedEx presented its results for the second quarter, which ended 30 November. The integrator reported a 3% drop in revenue, to $22.8bn, with net income slipping 24%, to $788m, and net operating margin sinking to 5.2%.
The FedEx management's cost reduction programme targets over $4bn in structural savings by fiscal 2025. The heavy lifting is set to play out in its express segment, which saw adjusted operating income slump 65%. Management noted 'a structural slowdown' in e-commerce and a marked shift in Asia from premium to deferred services hurting express yields.
According to CEO Raj Subranamiam, FedEx "is transforming the network to be more agile, efficient and digitally-led. An initial priority is to optimise the global air network, where we expect to generate approximately $400m in savings. This work includes deploying digital assets that allow us to efficiently balance our purple-tile airplanes and third-party lift as we build the network of the future".
In light of current market conditions and outlook, it is not surprising that FedEx is looking to reduce its flight operations further in order to generate cost savings.
"A large portion of those savings is coming from reduced flight frequencies," confirmed EVP and CFO Mike Lenz.
"Year-to-date, we've reduced eight international routes and 32 US domestic routes, while parking five additional aircraft. This translates into pulling down US domestic flight hours by 6% and international flight hours down 7% in Q2m year over year," he added.
In the event of a market recovery, the cuts will not be reversed altogether. Instead, FedEx will be looking to other carriers to shoulder more traffic, he said.
"As we come out of the current circumstances, it would come back in a different way, and we would be using less of our own purple-tail lift and more partner lift to flow traffic in the most efficient manner possible."
FedEx has not provided details on the mix and types of freighters it will take out of service, but it should be a mix of older widebodies and narrowbody freighters. However, management said this week "most will be widebodies".
As for bringing in new freighters, the company has pushed out its aircraft payment schedule, but the number of deliveries would remain unchanged, Mr Lenz said.
"We have no firm orders beyond FY25 for new aircraft," he added.
Back in February, FedEx was having talks with Airbus and Boeing about new-generation freighters (A350s or B777Xs) but deferred a decision, reportedly due to labour talks with its pilots. Under the current circumstances, management should be in no hurry to sign a large order.
Meanwhile, commercial carriers can include FedEx in their list of potential customers as they chase volumes.