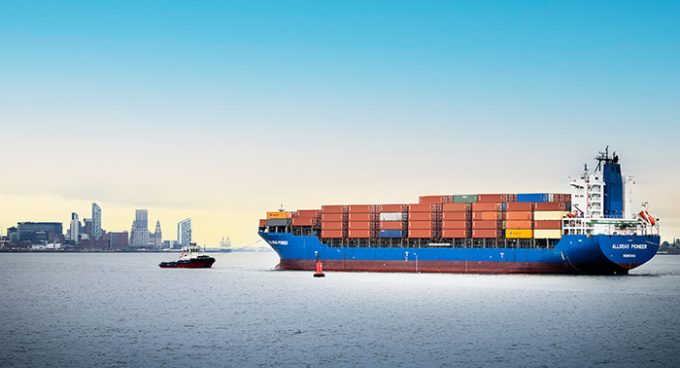 The first direct container service from Asia to Scotland is claimed to be a "game-changer" for companies that import from China, as well as for Scottish whisky, gin and spirit exporters.  
A new alliance between the China Xpress service, operated by DKT Allseas and Glasgow-based liner agency KC Liner Agencies, will see the fortnightly loop extended to the Scottish west coast port of Greenock, from the second half of August, according to Alphaliner.  
The consultant said the revised rotation of the China Xpress loop will be: Ningbo and Dongguan in China, Chittagong in Bangladesh, Liverpool, Greenock, Rotterdam and then back to Ningbo.  
"The loop will continue to use a fleet of six vessels of 1,400-1,800 teu, one of which, the 1,878 teu Allseas Pioneer, will inaugurate the Greenock call on 21 August," said Alphaliner.  
KC Liner Agencies said it was "taking a positive approach to solving the supply chain challenge Scottish importers and exporters encounter".  
"For Scottish importers that use China as their primary source of stock and raw materials, the direct service from suppliers' home ports to Greenock will offer a much more predictable timeframe than shipments currently coming via Rotterdam and other European ports," said KC.  
DKT Allseas owes the success of its China Xpress service to the unreliability of the existing alliance networks and the increased transhipment of UK cargo.   Many shippers have told The Loadstar alliance services to the UK from Asia have deteriorated significantly since the pandemic.  
"They expect us to pay higher rates for UK destinations and then dump our cargo at a German port without any idea of when the boxes will be relayed," said one NVOCC contact.  
And, by bypassing the UK's southern container hub ports, the China Xpress service has also tapped into a significant regional demand.  
Nevertheless, the carrier will need to rely on its strong customer-focused culture and the loyalty of its shippers to fill its ships if consumer demand weakens substantially.  
Meanwhile, on the east coast of Scotland, at the port of Grangemouth, CMA CGM's shortsea subsidiary, Containerships, this week marked the maiden call of its new Scottish Express (SCX) with the arrival of the 801 teu Skylight.  The new service will call at Grangemouth every Thursday and is principally targeting Scottish exports.  
"This is an important addition to the Scottish market with a fixed day weekly service and increases Scotland's connectivity to mainland Europe and beyond," said James Leeson, general manager at CMA CGM UK.  
Derek Knox, head of operations Scottish Ports, said the new link was "great news" for Grangemouth and Scotland.  
"The additional shipping capacity created from this new direct freight service to Europe will play a key role in fulfilling the demands of the Scottish market trading with European and international destinations," said Mr Knox.  
The SCX service will sail from Grangemouth to Rotterdam, via Teesport and is targeting handling around 20,000 containers a year through the Scottish port.