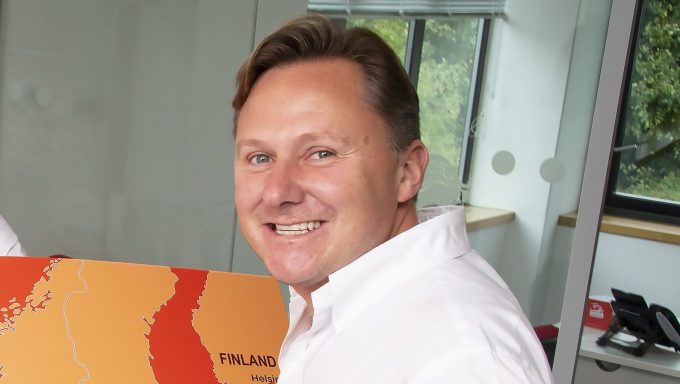 A leading UK road transport and logistics firm has resigned its membership of the Road Haulage Association and called on its CEO, Richard Burnett, to stand down, following claims the association leaked details of its meetings with the UK government to the press.
In an open letter to the RHA, Europa Worldwide founder and CEO Andrew Baxter (pictured above) said he was "appalled by the way the RHA has conducted itself over recent years", and claimed the organisation "no longer represents" the UK road haulage sector.
"The RHA has destroyed its productive relationship with the government by repeatedly leaking information from confidential meetings, as well as sharing a private voicemail from the transport secretary with [BBC TV's] Panorama," Mr Baxter wrote.
"How does it expect to have a constructive or collaborative relationship with government when it conducts itself in this way?" he asks.
"The RHA was substantially responsible for the current fuel crisis by leaking information regarding fuel stocks, which has damaged the country and the haulage sector.
"British hauliers don't need political posturing, what they need is a serious representative body that works constructively with government to achieve genuine results for the transport sector," he wrote.
However, the RHA has denied being the source of the leak, blamed by the government as the cause of the recent fuel panic-buying.
At the end of last month, UK transport secretary Grant Shapps told the Mail on Sunday RHA policy director Rod McKenzie had provided details of private meetings between the DfT and industry to the media, but the RHA said: "The RHA wants to make it clear that it completely refutes the Mail on Sunday's version of events.
"Firstly, Rod McKenzie was not in the meeting where the BP issue was discussed. Secondly, he is not the source of the leak. The first he heard of the comments was when journalists rang him asking for comment after an ITV News story had been broadcast.
"He was not, as the government source claimed, "aware of the comments", and certainly did not "weaponise" them in subsequent TV interviews," it added.
Mr Baxter also accuses the RHA of undermining the UK road haulage sector's preparations for Brexit "by constantly telling hauliers they could not prepare for Brexit, when the vast majority of what was required was clear".
He adds: "It should have recognised and understood that the very nature of the negotiation with the EU would mean that some details would only be clear at the last minute.
"Hauliers should have been encouraged to prepare for what was known, and to react to the remaining details when they were known," he wrote adding that the RHA CEO should stand down.
"It is surely now time for him to resign his position, in order to make way for new leadership who can rebuild links with the government. If, or when, these changes take place, we will be happy to reconsider our membership of the RHA," he said.