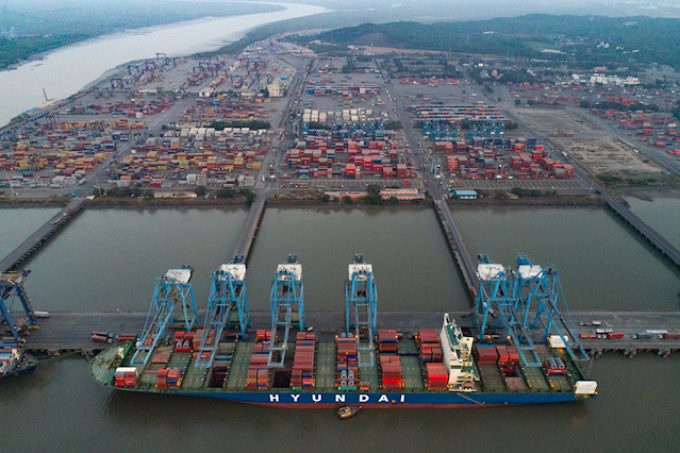 Container lines are reporting more operational challenges at India's Nhava Sheva Port (JNPT) as they deal with an export loading demand surge due to the end of the fiscal year this month.
Shipments transacted ahead of the fiscal year closing typically enables exporters to secure government incentives.
A shortage of reefer plugs and disruption from dredging work due to start next week have exacerbated the risk of cargo delays for carriers and shippers.
They are already in a tight spot capacity-wise after APM Terminals Mumbai (GTI) decommissioned one of its berths for crane upgrades.
Industry sources said seasonal grape exports have been hit by the shortage of plugs on the dock, causing potential losses for perishables traders.
"The limitation of reefer plugs at NSICT [a DP World terminal] remains a challenge," Sunil Vaswani, executive director of the Container Shipping Lines Association, told The Loadstar. "This is critical due to the increased volumes of grape shipments this year, which need to be shipped before the financial year ends."
Additionally, there are plans to start major maintenance dredging work for PSA Mumbai's berth pockets that could further curb vessel movements.
Bhavik Mota, Maersk's head of product for IMEA, said: "We are witnessing congestion at Nhava Sheva Port, owing to a combination of factors. Our customer experience teams are constantly in touch with customers and exploring alternatives to manage their supply chains efficiently."
The Danish carrier, in a customer advisory, said vessels were also facing the risk of sailing light, due to terminal restrictions on gate moves, particularly for calls out of NSICT.
"We have seen huge traffic queues and congestion outside terminals, impacting export gate-in and delivery of imports, as well," the advisory noted.
The supply chain setbacks come as the Indian government is pushing pro-export industry groups to maximise shipments in order to scale-up annual trade volumes, despite the global headwinds. Indian xports, by value, were down about 9% year on year in February, continuing the slide seen since October, according to official data.
However, industry leaders sounded optimistic about respectable export growth in the current fiscal year after achieving record volumes last fiscal year.
"Though exports have seen some declines during recent months, mainly due to a slowdown in the global growth process, rising inflation, volatility in currencies and continuous change in geo-political scenarios, India has, by and large, remained stable and resilient, with its exports showing positive trends, barring few sectors," said A Sakthivel, president of the Federation of Indian Export Organisations.