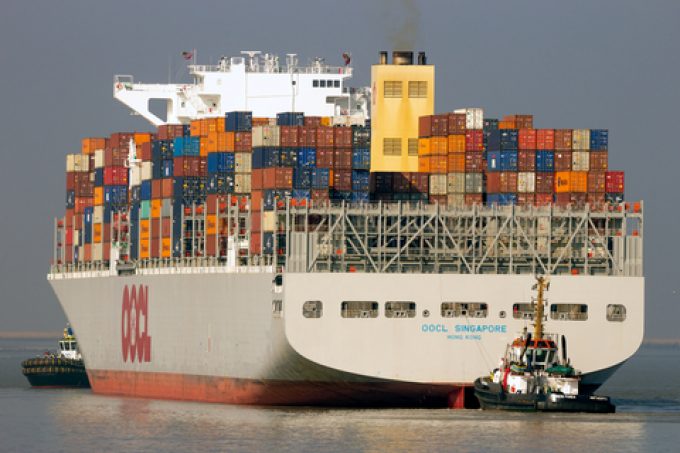 The Q3 ocean carrier reporting season has kicked off with OOCL's third-quarter turbo-charged operational numbers.
This bellwether data is confirmation that shipping lines have enjoyed another record quarter, while the collapse of demand in the latter weeks of the period will only impact earnings in Q4 onwards, due to the lag in voyage accounting.
Despite a 3.4% year-on-year decline in OOCL's Q3 network liftings, to 1,748,082 teu, revenue jumped 16.9%, to just over $5bn, for an average rate per teu of $2,886 – up 21.1% on Q3 21.
It is the third consecutive quarter in which Hong Kong-based OOCL's turnover has exceeded $5bn and takes the Cosco Shipping subsidiary to a nine-month revenue total of $15.5bn, 43% higher than the corresponding period of the year before.
Drilling down to the performance of OOCL's regional activities, Asia-Europe volumes were down 7.3%, compared with the past year, to 384,919 teu, while volumes on transpacific services slumped by 14.4%, to 419,386 teu.
However, on OOCL's biggest trade, intra-Asia/Australasia, which accounted for 47% of its liftings during the quarter, the carrier recorded a healthy 4.7% growth, to 829,752 teu.
Revenue-wise, the carrier recorded significant jumps in three out of its four sectors. Intra-Asia/Australasia turnover leaped 29.6%, to $1.46bn, and was up 26.2% on its transatlantic services, to $370,000, and 21.5% up on the transpacific, to $1.9bn, due to higher contract rates.
Meanwhile, according to reports to The Loadstar, despite a substantial blanking exercise, ships from Asia are still sailing light, putting huge downward pressure on spot and short-term rates.
Indeed, the Freightos Baltic Index (FBX) component for China to the US west coast fell another 20% last week, to $2,361 per 40ft, and has now lost two-thirds of its value since May.
This is prompting BCOs to request a renegotiation of long-term transpacific contract rates, with some carriers understood to be granting 'temporary' rate reductions and/or relaxing their MQC (minimum quantity commitment) terms where orders have been cut.
OOCL and its peers will be hoping for a pick-up in demand following China's Golden Week holiday last week, but carriers fear forward-booking prospects will get weaker still for November and December.
OOCL's parent, OOIL (Orient Overseas International), only commented on the carrier's performance for the H1 and full-year earnings and, at the time of the release of the results for the first six months in July, referred to difficulties with outlook visibility.
"We see an array of conflicting signals that provide little clarity in terms of the outlook," it said. "Undoubtedly there are legitimate concerns about the impact of inflation and interest rate rises on consumer spending in many key economies."
OOIL's parent, Cosco Shipping, is ranked the fourth-biggest ocean carrier, behind MSC, Maersk and CMA CGM, with a combined fleet of 465 ships for a capacity of 2.9m teu. It has an orderbook of 34 vessels for 587,000 teu, including 12 23,000 teu ships stemmed for delivery from next year, and ten 16,000 teu ships for 2024 delivery for OOCL.