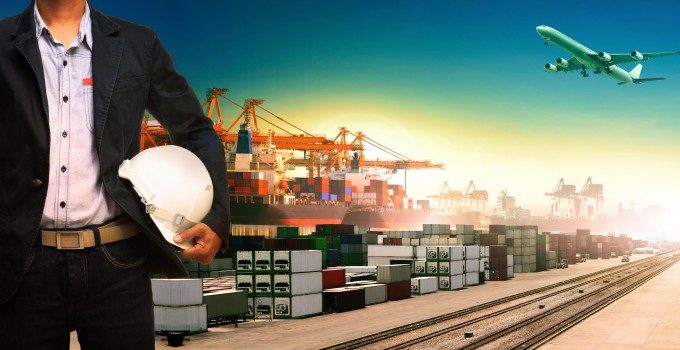 Dachser UK revenue climbed 9% over the 12 months of 2018, and while the start of 2019 has been equally strong, the company believes it could do more in the way of e-commerce.   
Managing director Mark Rollinson told The Loadstar, on the sidelines of Multimodal in Birmingham this week, that while the profit line had slightly dipped compared with 2017, last year had been a strong one for business.  
He added: "The growth has continued through into this year and we believe we are on course for a strong performance.  
"Developments for the year ahead include the opening of our new facility in Rochdale, which is still on course for September."  
The dip in profitability was attributed to investment in a new facility in Northampton, which opened in the latter half of 2018. Mr Rollinson said this new facility had helped land a major contract with supermarket operator Aldi.  
"Our contract logistics business has developed in line with this base customer – we have others, which is good, but step by step we are looking to broaden our portfolio."  
One opportunity he feels the company could be making more of is e-commerce. He noted that while some of the customers in Northampton have e-commerce services that Dachser helps facilitate, there is scope for more.  
"Over the past 18 months, we have realised there is very much a need to recruit more specialists in the sector," said Mr Rollinson. "We perhaps require a little more expertise and recruitment-wise, it of course varies regionally, but we've a good reputation and see a steady increase in the headcount."  
By the end of the year, Dachser UK hopes to have completed the integration of its latest acquisition, Ireland-based forwarder Johnston. While its trucks have already been rebranded, the second half of the year should see the legal entity of Johnston replaced by Dachser.  
Mr Rollinson said: "For a year now the two companies have been running [together], but it was certainly a huge change for Johnston and its customers moving from its bespoke system to the Dachser one."   
As for further developments, he said that with its Dartford facility coming close to capacity, the company was looking at opportunities to expand its footprint in the south, possibly even out towards Bristol, where it has a satellite branch, but Mr Rollinson believes there is clear commitment to the UK from Dachser. 
"Our investment is proof of commitment and our optimistic view on future import and export trade with Europe is evidenced by our strong growth figures last year," he added.   
"We will continue to leverage our pan-European road freight services and, given the continued uncertainties surrounding Brexit, we will remain agile and responsive." 
Despite the uncertainties, Dachser has attempted to mitigate the impact of a potential no-deal Brexit. However, the plans – spending on infrastructure, IT and personnel – have been put on hold following the UK remaining part of the EU beyond the initial March withdrawal deadline.  
"We, of course, had March firmly in our sights, but that deadline came and went," said Mr Rollinson. "It has probably been useful in a way, as it has given us more time to think things through and work out how certain situations could be dealt with."