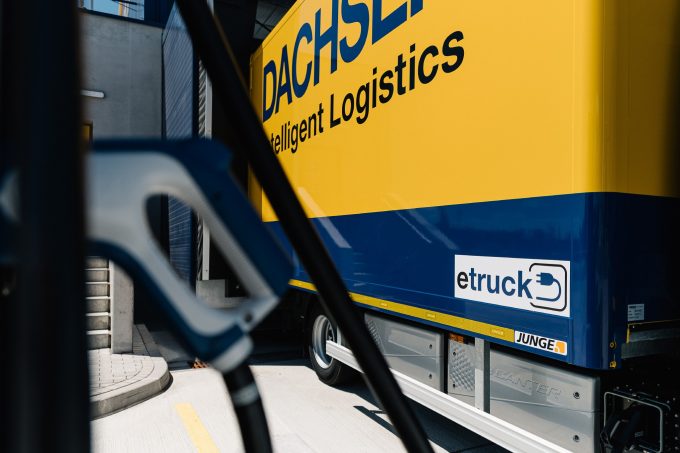 PRESS RELEASE

The logistics provider will invest in battery-powered trucks and company cars as well as in the requisite charging systems. Tests with hydrogen-powered trucks are also in the pipeline.

Logistics provider DACHSER is to step up its use of zero-emission vehicles. Zero-emission vehicles are trucks and cars that do not directly produce any emissions of greenhouse gases or air pollutants. In an initial step, the family-owned company will introduce at least 50 additional battery electric trucks on European routes by the end of 2023. DACHSER is also planning to add around 1,000 electric passenger cars to its fleet of company and service vehicles. In parallel, the company will press ahead with a range of pilot projects to develop and test hydrogen-powered trucks equipped with fuel cell technology. DACHSER plans to have hydrogen-powered vehicles from a range of manufacturers operating within its network by no later than the beginning of 2023.

"The only way for the transportation sector to meet the global community's long-term goal of net zero emissions is by using zero-emission vehicles. That's why such vehicles form a key plank of our own climate protection strategy," explains Stefan Hohm, Chief Development Officer (CDO) at DACHSER. "We're going to significantly expand our use of environmentally friendly vehicles in the coming years, which will give us valuable practical experience and also help us increase the number of units."

More electric trucks and more areas of application

At present, DACHSER primarily uses battery-powered vehicles for urban deliveries within its groupage network. In Europe, the company has electrically assisted cargo bikes in daily operations and, above all, electric vehicles with a gross vehicle weight rating of up to 7.5 metric tons. There are still very few all-electric production vehicles available in heavier weight classes. At present, the only vehicle of this type DACHSER has in service is a preproduction model of the 19-metric-ton Mercedes-Benz eActros in Stuttgart, the capital of Baden-Württemberg, as part of an innovation partnership with Daimler.

In the next two years, DACHSER will introduce at least 50 additional zero-emission trucks, including heavy battery-electric motor vehicles and truck tractors from a range of manufacturers, either through direct purchase or in cooperation with transport partners.

"We're actively promoting the use of zero-emission vehicles in our European network with a view to incorporating them as effectively as possible in our transportation processes. These are investments in the future, which will pay off in the long-term," explains Alexander Tonn, Chief Operations Officer (COO) Road Logistics at DACHSER. "We'll be expanding our use of zero-emission trucks to the areas of regional and, in particular, shuttle transports this year. We also intend to use battery-powered vehicles to move around swap bodies and semi-trailers at our branches."

Electric company cars

DACHSER also plans to ensure that by the end of 2023, one in two company cars at its locations in Europe is a battery electric vehicle. This represents approximately 1,000 passenger cars in total. Company car drivers and DACHSER branches will be able to choose between different models from various manufacturers. Since all-electric vehicles do not yet offer the technical specifications required for every kind of user profile, this transition will be gradual. In addition, since delivery times are currently very long, short-term demand cannot be met right now. For members of the DACHSER Executive Board, the switch to electric company cars will be completed in 2022.

New charge spots delivering green electricity

To accompany these measures, DACHSER will ensure adequate availability of charge spots at its branches. In addition, there are plans to create over 40 fast charging stations for trucks, each with a charging power of 180 kW. All of these charge spots are to be supplied with green electricity, which will be either bought in or produced by the company's own photovoltaic systems.