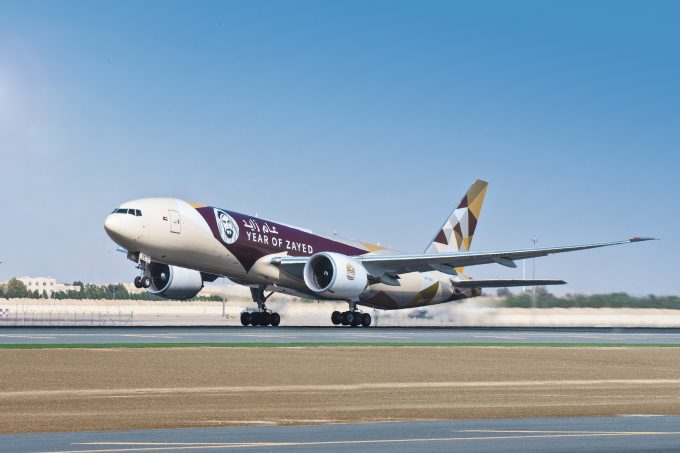 As the Farnborough Air Show opens this week, all eyes will be on aircraft orders, and the Volga-Dnepr Group, sponsor of the Cargo Village.
But in fact, causing more of a stir is the presence of Abdulla Shadid, managing director of Etihad Cargo and Logistics Services – and apparently the architect of a new-look Etihad Cargo.
Speculation over the future of Etihad's cargo operations is rife, and some companies are desperately seeking fourth-quarter capacity elsewhere after hearing of potentially significant changes to the Abu Dhabi carrier's freighter business.
According to multiple sources, Etihad is looking at retaining just four of its freighters – for now. But this could change.
"It is definitely going to reduce to four, and perhaps get out altogether," said one local source with knowledge of the situation.
Etihad's A330 freighters, grounded for some time, are thought to be going to DHL, which launched the A330 passenger-to freighter conversion programme and has been steadily amassing the aircraft type. Etihad also has five B777 freighters, although one has been leased to Emirates for the past year and is expected to remain outside Etihad's fleet.
According to one source, Etihad is expecting a 777F delivery in October, but no longer wants the aircraft. And doubts remain over whether it will maintain any freighters at all, following the completion of a business evaluation.
One source said Mr Shadid did not yet understand "the true value in being a freighter operator", especially from the customer perspective.
There is also, as usual, talk of deals between Etihad and Emirates over space-sharing, which could allow Etihad to leave the freighter business while retaining its customers.
One, currently looking for capacity in case Etihad depletes its capacity, told The Loadstar: "They are not out completely, but not completely in either. It seems to me they don't have much of a clue how the freighter business works."
Another customer added: "With all the cost-cutting they are making, it wouldn't surprise me if they did cut the fleet.
"There are minimal scheduled options with Etihad's freighter fleet due to the downsize, and the remaining fleet is operating on 'scheduled charters' or specific committed legs. For passenger aircraft options, Etihad does offer a solid service with good capacity."
Yet another customer said he had capacity booked with Etihad in the fourth quarter and hadn't been told to look elsewhere, suggesting the company is not – as some rumours suggest – going to cancel its freighter operations entirely.
"They [Etihad] cannot eliminate the cargo department, they need the revenue," said one industry specialist. "I expect they can justify three to four 777Fs, which will help keep the bellies profitable."
One of the freighters appears to have been given over to humanitarian work since May, under the Year of Zayad initiative.
The department is also said to be undergoing restructuring following the arrival of Mr Shadid.
Etihad last week announced a restructuring plan, but it held few clues on the future of the cargo department, which, according to one source, could be split off from the rest of the business.
Etihad's statement read: "Under the new structure, the group will be reorganised into seven business divisions: Operations; Commercial; Maintenance; Repair & Overhaul; Human Resources; Finance; Support Services; and Transformation.
"Robin Kamark has been appointed chief commercial officer. Mr Kamark, who joined Etihad Aviation Group in April 2017, will spearhead the overall commercial strategy of the airline, including cargo, sales and marketing."
One insider said the organisation was riddled with unnecessary management layers and that a "bloodbath" had ensued. Another suggested "madness" at the airline.
Concerned customers said they were keen to talk to Mr Shadid during his Farnborough visit this week – where more details of his plans may be revealed.
Etihad, which posted a $2bn loss earlier this year, had not responded to The Loadstar's request for comment before publication.