Looking ahead to what could be a critical period for the logistics industry in Europe the dark clouds gathering over Germany and the UK in terms of labour relations in key ports will add to the already challenging market conditions experienced over the last two years.
The Felixstowe Port strike is expected to begin on Sunday, but the results of the Liverpool ballot were only announced on Monday and no firm dates for industrial action have yet been announced.
It is unlikely, as some have suggested, that any liner services will be diverted from Felixstowe permanently. The UK is still a major G7 market and, if any shipping line were to opt for that action, one of its competitors would jump in to grab market share. There is too much business to lose.
However, the main impact for both Liverpool and Felixstowe may be congestion of shore-side space for storing containers, rather than congestion of ships waiting to load and/or discharge outside the port, which VesselsValue tracks.
In terms of shore-side space, trucks may be looking to return empty containers to Felixstowe for onward repatriation, as normal. However, no ships will be arriving to take them away.
This may create a build-up of "empties" which, over eight days in Felixstowe, could result in major shore-side congestion inside and outside terminal gates, at significant costs for importers paying detention fees on rental equipment. Following the strike, it could take several weeks to clear the backlog and there may be severely reduced space for ships arriving with full containers to discharge.
In terms of ships waiting to load or discharge outside the port, the unions have given almost two weeks' notice of the strike, so there is time for shippers and lines to adjust their schedules.
For example, see Maersk's warning to customers that they should prepare for diversions: (https://www.maersk.com/news/articles/2022/08/10/europe-market-update-august).
Probably the most comparable recent example is the two-day strike at APMT's terminals in Germany from 14 to 16 July. There were a few cases of ships waiting a long time. For example, the Cosco Aries (IMO 9783497) waited 117 hours at the anchorage before completing its journey to Hamburg on 23 July. But at Wilhelmshaven, average waiting times increased only marginally, from 11 hours on 14 July to 12 hours on 16 July. And, at Bremerhaven, average waiting times actually decreased, from 20 hours on 14 July to 18 hours on 16 July, as ships diverted.
The Felixstowe strike is eight days, compared with only two in Germany. Hence, it seems likely that more services may divert to other ports and, although a few ships may wait a long time to enter Felixstowe, average waiting times may decrease rather than increase.
Rotterdam and Antwerp
When Maersk and others describe Rotterdam and Antwerp as "full", we believe they are referring to shoreside space to store containers, which is around 90% utilised. But, in terms of average waiting times for containerships, these two ports do not appear congested at present, though they were congested earlier in the year.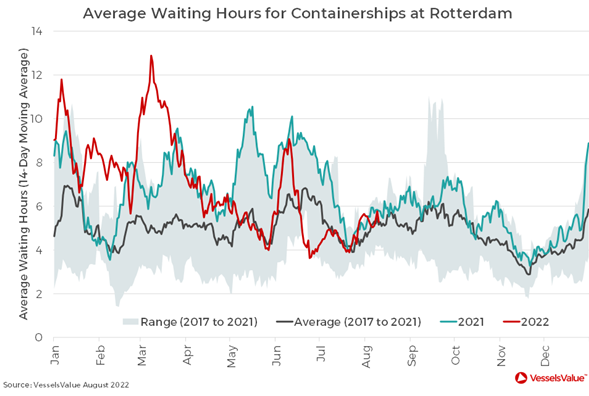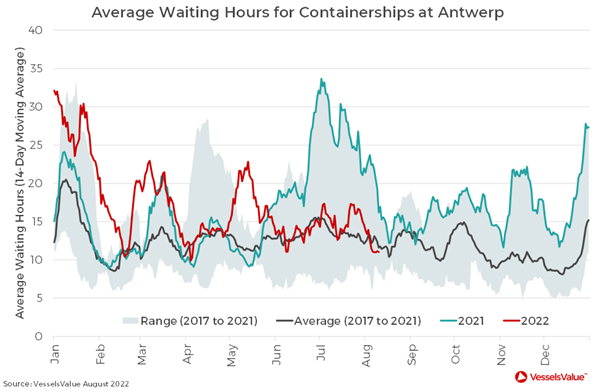 On the road to somewhere
When Maersk and MSC diverted their AE7 service from Felixstowe in October, due to congestion, they went to Wilhelmshaven. This was due to a slightly different problem, as there was a severe shortage of truck drivers in the UK and full containers, rather than "empties", were building up at the port.
Nevertheless, it was restricting the shore-side space available for ships arriving with full containers to discharge. Last week, we suggested Southampton and London Gateway were also able to accommodate the very largest containerships. Other alternatives could be Bremerhaven, Rotterdam, Antwerp, Zeebrugge and Gdansk.
If ships go directly to Wilhelmshaven instead of Felixstowe, the journey time from Wilhelmshaven to the UK is one to two days, depending on which port. So, including transhipment time, we would expect the total delay to be a few days.
Ripple effects across Europe
The ports listed above may exhibit an increase in ship numbers and waiting time leading up to and during the Felixstowe strike, and the period thereafter it takes to clear the backlog of "empties." But we would expect diversions to be spread out between them. And these should start to normalise slowly again, when the strike concludes and the backlog of "empties" is cleared.