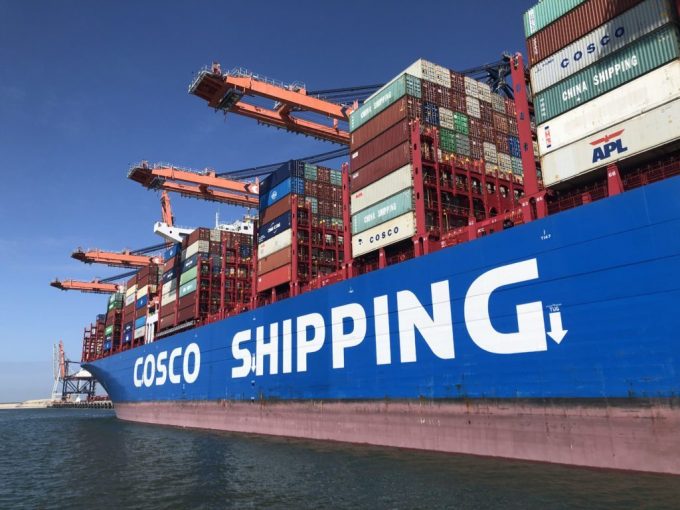 Cosco Shipping Lines and OOIL have confirmed their orders for 24,000 teu methanol-fuelled ultra-large containerships (ULCSs).
In a filing to the Shanghai Stock Exchange on Friday, holding company Cosco Shipping Holdings (CSH), said that through its subsidiary, Cosco (Cayman) Mercury, it had commissioned five 24,000 teu ships at affiliate shipyard Dalian Cosco-KHI Ship Engineering (DACKS) for delivery between February 2027 and June 2028.
And Cosco subsidiary OOIL, carrier OOCL's parent, has ordered seven 24,000 teu ships at another affiliate shipyard, Nantong Cosco-KHI Ship Engineering (NACKS) to hit the water from Q3 26 to Q3 28.
Each ship costs $239.85m, translating into a total contract price of $2.87bn.
DACKS and NACKS are both joint-ventures between the Cosco group and Japanese shipbuilder Kawasaki Heavy Industries.
CSH said: "These newbuildings are a new way for us to actively meet the needs of future competition, and conform to the trend of green, low-carbon shipping. They will help us to stay competitive on the east-west routes and develop opportunities in regional and emerging lanes."
Although these ships will be the first in Cosco's fleet to be methanol-fuelled – and believed to be the largest of these on order – they are not the first methanol vessels ordered. Maersk Line has long seen methanol as an alternative fuel, ahead of the global target of achieving decarbonisation in 2050. The Danish carrier has 19 vessels of 16,000-17,000 teu on order at Hyundai Heavy Industries, for delivery from Q1 24 to 2025.
Methanol, when produced from renewable sources, is considered a net zero-carbon emission fuel and significantly reduces emissions of sulphur oxides, nitrogen oxides (NOx) and particulate matter.
Sourcing green methanol is a major challenge for the industry, but Maersk's strategy has been to create demand so sources of green methanol will be developed.
Cash-rich CSH saw net profits up 44% year on year, to $13.6bn, in the first nine months of 2022, even though container volumes declined, to 18.5m teu, from 20.4m teu in the same period in 2021.
Cosco and OOIL already have a 20-ship newbuilding programme. In July 2021, Cosco ordered ten vessels, six  of 14,000 teu and four of 16,000 teu for delivery from the end of 2023 through to the H2 25. And in September 2021, OOIL ordered ten 16,000 teu ships for delivery from Q4 24 to Q4 25.