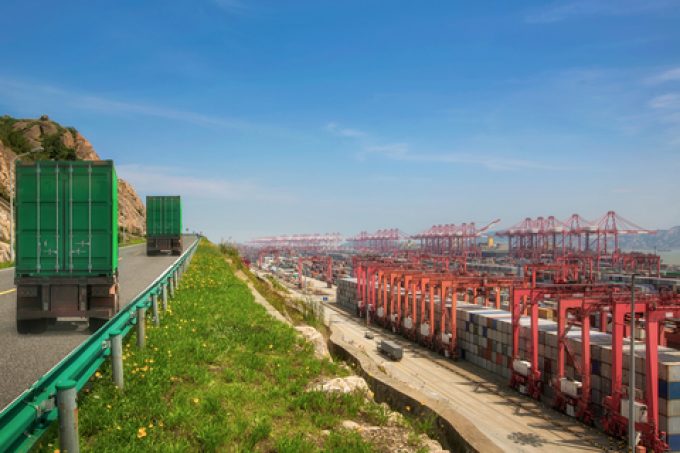 Trucking firms in China are still experiencing a severe shortage of drivers returning to work.
Despite the official end to the extended lunar new year holiday this week, transport restrictions and other measures to combat coronavirus, have prevented truckers from operating anywhere near full capacity.
For example, according to Shanghai-based Marco Reichel, APAC business development manager at Crane Worldwide Logistics, most drivers require a permit to return to work and face quarantine for 14 days.
"And restrictions keep popping up for different provinces and even cities," he told The Loadstar. "For example, Changzhou [188km from Shanghai] has a road restriction only allowing drivers and trucks from Changzhou to enter the city."
Trucking firms are required to provide identity cards for drivers and licence plate registrations in order to limit cross-provincial movement, he added. And many factories in and around Shanghai, as well as in other provinces, remain closed.
"Authorities require special applications and will send teams to each factory to check if they comply with the health regulations, such as distributing masks and sanitisers," he explained.
"But since it is still difficult to get these supplies in China it will take some time to get back to normal."
However, he said, truckers were giving priority to medical supplies, face masks, sanitisers, and perishables and other refrigerated cargo.
But there remains a major backlog of reefer containers, further highlighted today by CMA CGM, which revised its port congestion surcharge for reefer exports to Shanghai, Ningbo and Tianjin/Xingang to $1,250.
"We still hope the situation will get better by next week in terms of road restrictions at least," added Mr Reichel. "But for now we are trying to position the cargo into the best possible and nearest cities to be ready once the situation gets better. Due to the shortages, we expect an increase in delivery and transportation charges for inland trucking."
On the other hand, he said, domestic trains were "still a possibility" and were running between inland rail terminals and major coastal cities, and freight forwarders are experiencing a surge in interest for China-Europe rail services.
"We are receiving a lot of requests from clients to receive their cargo quickly when the factories do reopen," said Hong Kong-based Norman Global Logistics. "With airlines cancelling flights and ocean carriers blanking sailings, rail can be the perfect solution."
Meanwhile, the blanked sailings from major shipping lines has independent forwarders in Europe fearing the worst.
"It will cause a lack of empty containers for European exporters," said Alice Arduini, managing director of Italy's Etex Logistic. "The inventory of boxes will be a huge problem very soon. Many reefers are stacked in China, waiting to be discharged – food, meat, milk… all decreasing in value every day.
"It will be very difficult to find export space, and big freight forwarders will take advantage of the vessels available," she added.