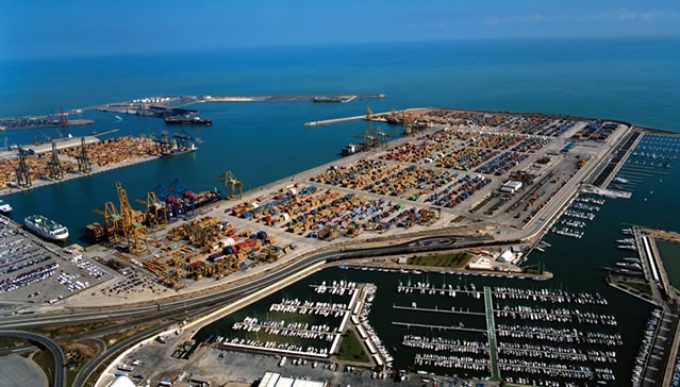 The labour dispute that is disrupting the Spanish port sector has also held up the sale of a stake in the Noatum ports group to Cosco.
According to a report in Spanish business paper El Confidencial, Noatum owner JP Morgan Asset Management has agreed to sell an undisclosed stake in the company to the Chinese shipping and ports operator.
In 2010, JP Morgan paid €740m for what was then known as Dragados and changed its name to  Noatum. It is Spain's largest port operator, with container terminals in Valencia, Bilbao, Las Palmas, a ro-ro terminal in Barcelona, multipurpose terminals in Malaga, Sagunto and Santander and inland intermodal facilities at Madrid and Zaragoza.
Earlier this year, Noatum split its corporate structure, bringing the container facilities and inland operations under Noatum Ports and the multipurpose and ro-ro facilities into Moatum Maritime – it is understood the Cosco sale solely concerns the Noatum Ports division.
According to El Confidencial, terms between JP Morgan and Cosco were agreed several months ago but the deal has remained uncompleted while the Spanish government has continued the process of bringing its labour laws into line with EU employment regulation.
When this month the Spanish government adopted a royal decree to reform the labour laws which sparked strike action from Spanish dockworkers, possibly further delaying the Noatum sale.
On Monday and Wednesday this week, Spanish dockers refused to work and announced further industrial action would take place tomorrow, and on the 14, 19, 21 and 23 June, leading shipping lines to warn shippers and forwarders of potential congestion, as terminals would only be operating during selected periods.
Maersk Line skipped at least three calls at its transhipment hub of Algeciras this week, discharging cargo at the Portuguese port of Sines and Morocco's Tangier instead.
Under previous Spanish law, all dockworkers must be members of stevedoring societies, known as Sociedad Anonima de Gestion de Estibadores Portuarios (Sageps), which recruit and train port workers before making them available to terminal and cargo operators.
This was challenged after the European Court of Justice (ECJ) ruled in 2014 that the Sageps system limited employers' options for sourcing workers, and last year levied a €15.6m fine on Spain, adding a €134,000 daily penalty until legal amendments were made.
In March, Spain's parliament rejected the government decision to comply with the ECJ's judgment, which led the government to apply for the royal decree.