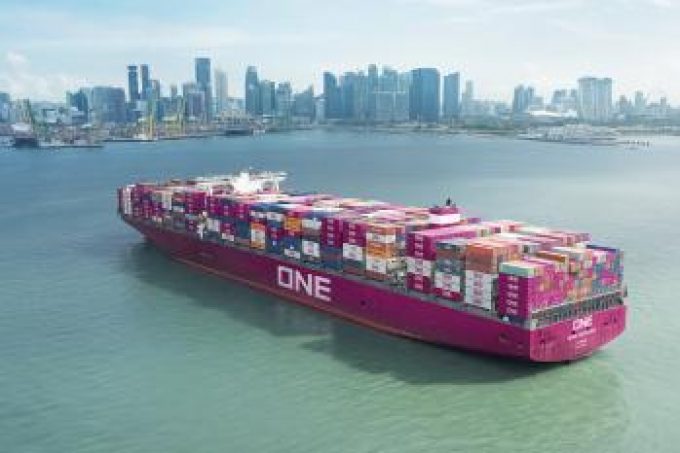 Container freight rates on the major headhaul trades from Asia stabilised this week, however, they remain significantly below the levels of a year ago.
Container spot rates as recorded by the Shanghai Containerized Freight Index (SCFI) were flat this week for both Europe and the US.
For North Europe, rates on today's SCFI were down $1 at $584 per teu, while for Mediterranean ports the index was up $1 to $601 per teu, which compares badly with a year ago's $866 and $827 per teu.
The next few weeks will be critical for the Asia-Europe carriers, as they need to push through increases before bookings begin for the all-important peak season, when the shipping lines traditionally enjoy their most profitable quarter.
With carriers obliged to reduce their FAK rates this month, their planned increases for 1 May must be made to stick.
"Carriers serving the Asia to North Continent and UK routes are hoping to return to levels of around $1,500 per feu," said Andrew Scorer, senior container pricing specialist at S&P Global Platts. But he suggested it seemed an "unrealistic" target.
A forwarding source had told Mr Scorer an increase of $200 per feu "could be more realistic at the moment for May".
But underlying downward pressures on rates, caused by a market share grab and other factors, could scupper carriers' rate increase aspirations entirely. Indeed, one carrier source told The Loadstar he had heard of rates as low as $350 per teu touted by one un-named shipping line this week.
Likeliest appear to be Hyundai Merchant Marine (HMM), which has just launched a standalone loop to North Europe, and the merged Japanese carrier Ocean Network Express (ONE), its launch on 1 April hobbled by serious IT problems, crippling its booking system.
According to an insider source, ONE's early sailing allocations were only 30% utilised as frustrated shippers abandoned trying to book space and migrated to other carriers, including its own THE Alliance partners.
It is understood ONE has now overcome the IT teething difficulties, but previously loyal Japanese carrier customers may have been lured permanently away by rival lines.
Mr Scorer added that, notwithstanding the high utilisation levels on the headhaul, route carriers were "hesitant to increase box rates" over a fear of losing market share to rival lines.
A further negative factor for the Asia-North Europe carriers is that spot rates on the backhaul, at about $450 per teu, are some 50% below the level of a year ago. However, to put that into context, rates from North Europe to Asia 12 months ago were spiked by a capacity crunch, caused by the carrier alliance restructuring.
Meanwhile, spot rates on the transpacific were also static this week, with the Asia to US components of the SCFI stuck at $1,152 per 40ft for the US west coast and $2,193 per 40ft for east coast ports.