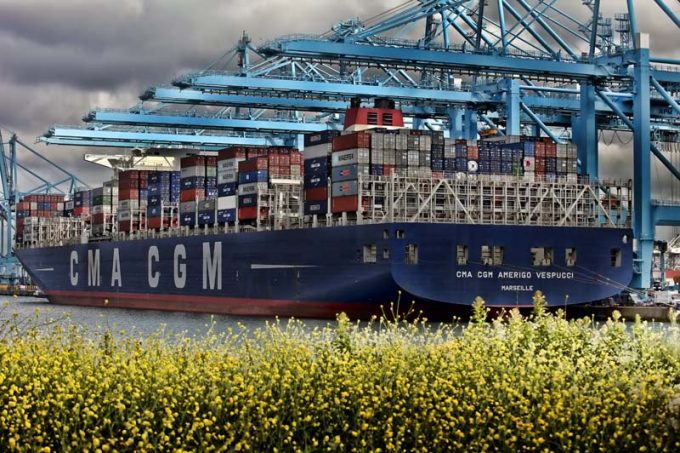 CMA CGM and Zim each posted first-quarter losses last week.
Both pinned the blame on escalating fuel costs, joining their container shipping peers in what has been a dismal first quarter.
CMA CGM chairman and chief executive Rudolphe Saade said of the line's net loss of $77m: "The shipping industry is experiencing sustained growth but was hit in the first quarter by the sharp increase in bunker prices."
Most carriers last week announced they were imposing emergency bunker surcharges (EBSs), on top of their FAK and contract rates.
And the impact of the hike in oil prices, propelling the cost of heavy fuel oil from around $350 to over $425 per tonne since January, will also have inflicted significant damage to carrier second-quarter balance sheets.
However, quarter-on-quarter, CMA CGM grew volumes by 15% to 4.95m teu, well above the industry par, which it attributed to the "commercial success" of the Ocean Alliance offering, along with the "strong momentum" of its African, US and South American services and the integration of its new Latin American subsidiary, Mercosul, acquired from Maersk.
Q1 turnover was up 17.1%, to $5.4bn, but the carrier admitted its average revenue per container only rose "slightly" compared with the same period a year ago.
CMA CGM's EBS of $55 per teu is effective from 1 June on all trades other than those regulated by the FMC and Taiwan, where it will start on 1 July.
Maersk Line is asking customers for an EBS of $60 per teu from 1 June, which, according to a client note today by investment banker Jefferies said would, if successfully implemented, "largely compensate" for the fuel cost increase.
The Jefferies analysts however cautioned that Maersk's "Asian peers", like Cosco and OOCL, "seem more reluctant" to impose a blanket fuel surcharge.
And, the larger contracted shippers may refuse to accept the EBS. In a LinkedIn blog yesterday, Bjorn Vang Jensen, vice-president of global logistics at Electrolux, said that although he had "sympathy for the carriers' challenges", contracts had been entered into recently by both parties with "eyes wide open", and that there was always a risk attached to doing business "which we accept, and which we expect that our suppliers accept too".
Mr Vang Jensen said his company had so far not been approached for an EBS, but "any carrier tempted to come to me directly now knows what to expect".
Meanwhile, Israeli carrier Zim posted a net loss of $26.1m for the first quarter, which compares with a profit of $2.6m in the first quarter of 2017. It also blamed increased bunker prices, "higher charter costs and lower freight rates".
And like CMA CGM, Zim also appears to have targeted increased market share, its volumes jumping 16.7% on the same period last year, to 698,000 teu.
Zim's revenue was up 14.7% to $751m, but average revenue per teu fell 1.6% to $938.
Looking ahead, CMA CGM claimed the prospects for the second half were better, given that freight rate increases, cost reduction initiatives and the EBS "should bear fruit".
But Alphaliner was not so optimistic. It said: "The chances for a substantial recovery in the coming quarters are rapidly diminishing."