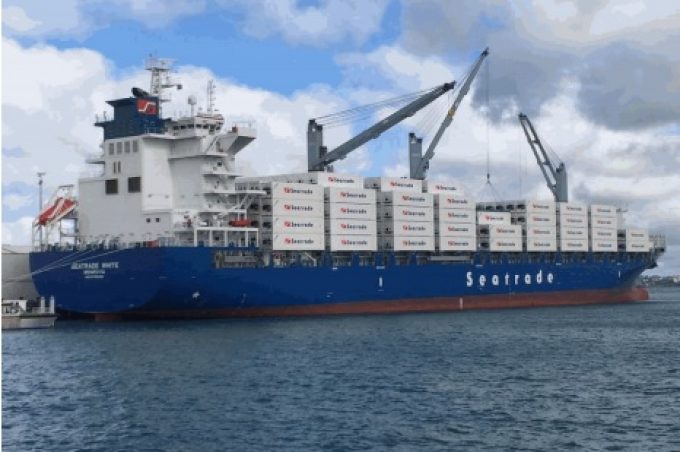 CMA CGM and Seatrade, the world's largest remaining specialised conventional reefer shipping operator, are set to launch a service connecting French Polynesia and Australasia with the US east coast and Europe.
In what is one of the first instances of a container line and conventional reefer operator cooperating, the two lines will also be joined by French independent liner operator Marfret to operate a 13-vessel string scheduled to begin in October, following clearance by competition authorities.
The service, marketed by CMA CGM as PAD and by Seatrade as Meridian, will link Northern Europe, the US east coast, Central America, the Pacific Islands, Australia, New Zealand, Peru and the Caribbean on a weekly basis.
Its rotation: Zeebrugge-London Gateway-Rotterdam-Dunkirk-Le Havre-new York-Savannah-Kingsting-Cartagena-Papeete-Noumea-Brisbane-Sydney-Melbourne-Nelon-Napier-Tauranga-Pisco-Paita-Philedelphia-Zeebrugge.
It will provide the first direct weekly service between French Polynesia, Northern Europe and the US east coast – an existing Marfret service connects Mediterranean ports with Papeete and Noumea.
The operators also claim it will provide the only dedicated reefer service from New Zealand to the US and Europe, improve the supply of transport between Australia and the US and offer a call at the Peruvian fresh produce export hubs of Pisco and Paita, with quick transit times to the US and Europe.
The service will deploy 13 modern geared containerships of 2,200-2,500 teu capacity, with CMA CGM and Seatrade each providing six and Marfret one. Each will have minimum of 600 reefers slots.
Seatrade, led by chief executive Yntze Buitenwerf, has been one of the few conventional reefer carriers to attempt to defend the sector's market share against the container lines by developing the concept of fast and direct services from load ports to destination, in contrast with box lines' extensive use of transhipment, slow-steaming and pitching the conventional offer as second in speed only to air freight.
In 2015, the company ordered four handy-sized conventional reefer carriers, the first newbuilding order for a reefer vessel for a number of years. The order for the 300,000 cubic metre vessels was part of the larger newbuilding programme that saw it order involving six high-spec reefer container vessels, which are expected to operate the new joint service with CMA CGM.
Four of the new box vessels have already been delivered with the latest, the Seatrade White, christened in the port of Tauranga in May.
"The specialised handy-size reefer vessels will be employed in the GreenSea Reefer Pool, whilst the reefer container vessels will be employed in the Seatrade Pool in current and newly developed trades, being an integrated part of the FDD (fast, direct and dedicated) concept developed by Seatrade in recent years," the company said.