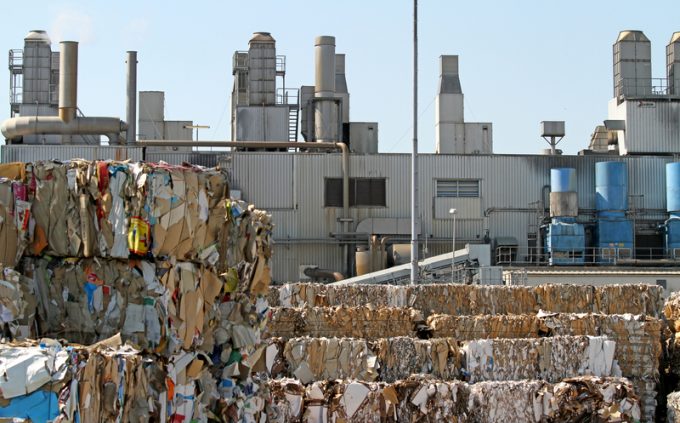 China's Ministry of Environmental Protection (MEP) has rejected claims that the government's radical steps to cut pollution, including closing factories and banning the import of certain grades of plastic and paper scrap will push up prices.
At a summit meeting of the MEP last week, Cui Shuhong, director of environmental impact assessments, dismissed claims that China's tougher pollution controls would harm economic growth.
It followed claims by German auto engineering group Scheaffler that the closure of its Shanghai supplier could cost its industry some $45bn.
Mr Shuhong said supply and demand were "still the main factors that dictate market prices", adding that to blame increased product prices on environmental protection measures "only rattles the market".
Nevertheless, maritime consultant Drewry attributed the weaker-than-expected cargo demand prior to the Chinese holiday this week to "massive closures" of factories by the authorities.
Neil Dekker, director of research, container at Drewry, told The Loadstar he believed the closure of polluting factories in Beijing, Shanghai and Guangdong since the beginning of August were a key reason for the demand blip.
The Loadstar reported on Friday that container lines had begun to alert customers to the stricter import controls on waste paper and plastics.
A report in the New York Times referred to a "crisis" for China's recycling paper mills, caused by the blockage in regular supplies, which in turn is giving cause for concern to manufacturers facing dwindling stocks of packaging.
One carrier The Loadstar contacted this morning said it was "assessing the implications" of the Chinese restrictions, while others, such as Hapag-Lloyd, have provided links to the MEP index of import bans on waste products.
Meanwhile, the Recycling Association, which represents more than 80 UK-based recycling organisations producing over 2m tonnes a year, has called on the UK government to intervene, via a "high level of diplomacy", on the relatively short notice ban on certain products.
Association president Adrian Jackson said: "This action by the Chinese government seems draconian and against the spirit of international trade, especially as many companies, including our members, have worked hard to improve quality."
However, the general view of the recycling industry appears to be that it is a "delicate situation" and that there is a need to improve the quality of scrap being exported.
Nottingham-based Mark Lyndon Paper Enterprises, which exports some 5,000 40 ft containers of material a month to China and Vietnam, said it "fully recognised the need to export a product to a high standard of quality".
MD Colin Clarke said: "While we are still on a journey, we are aware that there is a need to get quality right, as quality is paramount for the export market."
One contact who did not want to be named said the new restrictions in China would mean several supermarkets that supplied the waste would in future have to take "greater care in collecting the material".