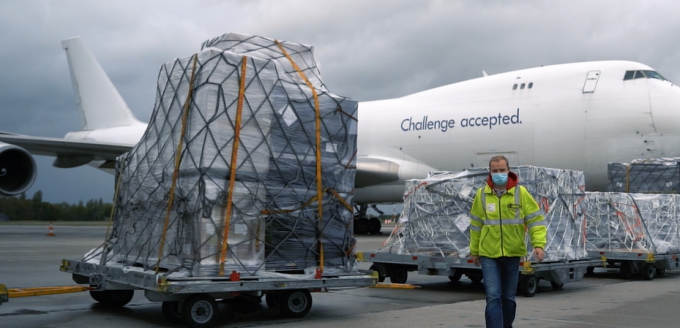 When one monarch dies, another steps in seamlessly to take their place. And so it seems with Challenge Group. A conversation with Yossi Shoukroun, chief executive, is very reminiscent of the Volga-Dnepr Group: talk of end-to-end logistics; special and difficult verticals; various AOCs and airlines to take advantage of different markets; ambitious fleet growth plans – and all set against a background of the groups' HQs located in potentially politically difficult markets.
And Israel-based Challenge Group, with one airline/ AOC based in Tel Aviv, which recently changed its name from CAL Cargo Airlines to Challenge Airlines IL, does have a significant problem in its home hub: the recent announcement by Israel that from next spring, it will no longer welcome four-engined aircraft.  It has one 747-400F, which will no longer be allowed to fly home.
Mr Shoukron admitted to The Loadstar he was surprised by the speed of the decision, although he had heard talk of it coming. But – like a true cargo airline – he is unfazed and ready to adapt.
"Next year, we will replace the 747 with one of our new 767s. But still there will be a need for special cargo and 747s, and when that happens, we will get authorisation to fly. We don't see any major impact on our activity."
Happily, Challenge has other places to base its 747s, of which it has four in total. It has a Belgian AOC for Challenge Airlines BE, where the other three currently reside. But it is soon, "in a week or two", to receive an AOC in Malta.
"Our third AOC will give us more flexibility, more traffic rights. We will base two 767-300Fs there."
Challenge is due to start receiving its order for four converted 767s. The first one leaves Marana Air Park this weekend to start the conversion process, and deliveries will start in January, with one delivering "every three or four months". But that's not all – it is also set to get four 777Fs, delivering from 2025 with an option for two more. "By 2026, we hope to have 14 aircraft," said Mr Shoukron.
Challenge's main operational hub is Liege, the key "to our success in Europe", where it has a maintenance company, trucking services, handler and aircraft parts leasing arm. As well as the airline. Not unlike its Russian counterpart, in fact.
And it wants to replicate this success elsewhere.
"We see our growth in many aspects. We are trying to duplicate it in the US," said Mr Shoukron. "We are looking for airports there like Liege, that see cargo as their core business, not one that every time there is congestion they prioritise passengers. We are looking for those kinds of airport."
And there are now airports in the US which fit that bill: he cited discussions with Chicago Rockford, Pittsburgh and Philadelphia, which last week announced a big investment in cargo. But his ambition is not limited to the US.
"There are other continents with valuable development potential such as the Far East – China, but also elsewhere. And the 767s could be interesting in Africa."
And what of the other current trend – a link up with shipping lines? Israeli carrier ZIM is one of the top 10 largest container lines.
"We were approached about 18 months ago by a customer for sea-air traffic, and we still have a relationship with Zim. Our business model is flexible, and about what the market needs.
"I believe Israel can become a strategic logistics point and could play a major part. But there are political restrictions and it can be politically difficult.
"We are talking with Zim, but I don't know if they are mature enough to understand. But who knows, we are open to discuss any business opportunities," he said – as any freighter entrepreneur would.
While Challenge has been around since 1976, it was bought in 2010 by Offer Gilboa, now chairman, who has turned it into the group it is today, along with Mr Shoukron. So yes, time-wise, it is not exactly the follow-on from Volga-Dnepr, it's been there all along. But there is now a VD-shaped gap in the market, and Challenge very much walks the same talk. The Queen is dead. Long live the King.