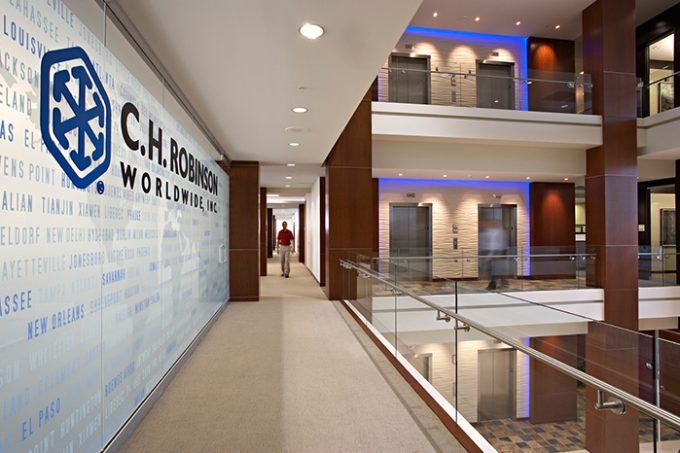 CH Robinson, one of the largest US logistics companies, reported this week that revenues and profits had fallen in Q3 due to higher trucking costs and fall-out from Hanjin's bankruptcy.
The company saw margin compression in its core truck brokerage and freight forwarding divisions as freight rate increases, introduced by trucking firms and shipping lines, couldn't be recouped from shippers.
Its largest business segment remains truckload brokerage, which delivered net revenue – income after paying carriers – of $310m, a 10% decrease on the third quarter of 2015, after freight rates shippers paid declined by 2% more than the rates it paid hauliers.
However, it managed to increase market share with a 7.5% increase in volumes.
It largest segment loser, however, was intermodal, where net revenue declined 24.% to $7.7m, volumes were flat and pricing declined under pressure from low trucking rates.
"When long-haul trucking rates are low, it hits the intermodal business," chief executive John Wiehoff explained.
The company typically has a large number of long-term contracts with shippers across its different business sectors – and in land, ocean and air freight corridors – and Mr Wiehoff maintained that the practice of securing customers on longer-term contracts was the right strategy for the company.
"Even if it means margin compression on our side, it is right that we honour our relationships with our customers and our suppliers – that is why they do business with us," he said.
"We expected a challenging pricing environment in 2016, as shippers focus on reducing their transportation costs. Despite the decrease in some of our key financial metrics in the third quarter, we feel confident that we are making good progress on our long-term plans," he continued.
"We are adapting to the market conditions by achieving profitable volume growth and continuing to focus on improving our customers' supply chain outcomes."
Chief financial officer Andrew Clarke described the deleterious effect of the Hanjin bankruptcy on its freight forwarding business. Ocean freight net revenues were down 3.1% to $56.5m.
"Our volumes and net revenues in ocean freight were up in July and August and then, at the beginning of September, came Hanjin's bankruptcy. The other carriers raised rates by between $750-$900 per container, which was as much as double in some cases – net revenues were down 15% in September, which gives an indication of how much pricing was impacted.
"This happened almost overnight and we weren't immediately able to pass those increases onto our customers, with whom we have long-term contracts. Our managers are now out in the field having those conversations with shippers and we expect some rises to trickle into the fourth quarter, although not much beyond that."
Across the quarter, CH Robinson's ocean shipments were up 5%, but total revenue for the sector declined by over 10%, chiefly as a result of the Hanjin effect, even though the South Korean carrier was not a core line for CH Robinson.
The company saw an 18% increase in air freight shipments in the period, but net revenue declined 1.7% to $19.9m
The quarter also saw the completion of its latest acquisition – Australasian freight forwarder APC Logistics last month, and Mr Wiehoff said further acquisitions, especially outside its home market, were under review.
"We expect to look for market share and service expansion both in North America and outside – especially outside. We want to take the earnings we are achieving in the US outside for a more efficient tax structure – there is certainly a greater bent on global acquisitions than in the past," he said.
He added that CH Robinson was particularly looking at growing its presence in the Asia-Europe and transatlantic trades, where participation has hitherto been minimal.
Group-wide, the company achieved revenue of $3.4bn, down 1.9% year-on-year, and posted a net profit of $129m, down 7.5% year-on-year