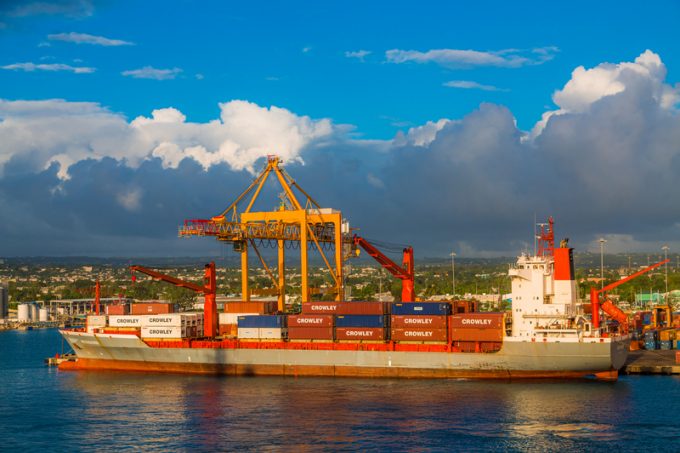 Three of the largest US container shipping carriers have applied to the Federal Maritime Commission for emergency permission to cooperate on trades between the US and the Caribbean.
According to a report by Alphaliner today, Crowley Liner Services, Seaboard Marine and King Ocean have filed an Emergency Cooperative Working Agreement with the FMC that would allow them "partial" anti-trust immunity on trades between the US east and Gulf coasts and the Caribbean, Central America and the northern coast of South America.
It would give the shipping lines scope to match capacity with an expected decline in demand as a result of the coronavirus outbreak.
"The proposed agreement would authorise Crowley, King Ocean and Seaboard to discuss and agree upon the removal of one or more vessels from their trades, the coordination of timetables, sailing dates, frequency of sailings and the carrying capacity offered by each of them," Alphaliner explained.
Importantly, the agreement won't cover the US-Puerto Rico route, which is classified as a domestic trade and continues to be regulated by the Jones Act.
However, it would allow the three carriers to charter space from each other on an ad hoc basis in an effort to stem losses that could come from the variety of challenges that coronavirus is likely to create.
"Overall, the measures are geared toward helping the carriers face operational challenges that may result from the Coronavirus outbreak. These could include declining cargo volumes, quarantine regulations, restrictions on crew travel, limited operations in ports and at terminals and others," Alphaliner said.
If given the green light from the FMC, the agreement would last from May until the end of 2020, and could provide a precedent for deepsea carriers to request similar partial anti-trust immunity if the crisis deepens and begins to pose risks such as bankruptcy.
"I can see the alliances asking for anti-trust exemption to do that on a grander scale if demand falls off a cliff, as everybody now expects," one liner observer noted today.
The proposal before the FMC is far smaller in terms of capacity and volumes: Seaboard Marine has a fleet of 26 ships, totalling 43,000 teu; Crowley has 17 vessels, amounting to 20,000 teu; and King Ocean has a combined capacity of 10,000 teu across 11 ships, according to Alphaliner data.