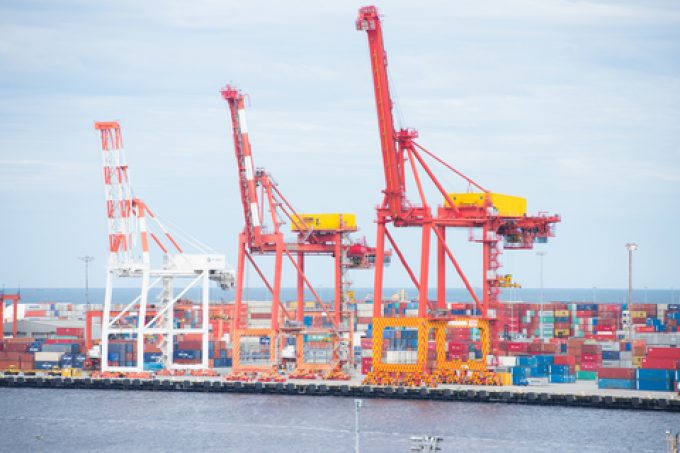 Controversial terminal access charges have again helped Australia's stevedores to increase revenue and profit margins, despite the largest volume drop in a decade.
The country's four major terminal operators handled 7.57m teu during the financial year ending 30 June, down 4%, according to the Container stevedoring monitoring report 2019-20, published today by the Australian Competition and Consumer Commission (ACCC).
However, the report found industry revenue increased 2.8%, to A$1.42bn (US$1bn), with revenue per lift up 7.5% and profit margins up 9.9% – "largely as a result of stevedores increasing terminal access charges", ACCC said.
"Revenue from these, previously called infrastructure charges, rose 51.9% [to $256.4m] in aggregate for monitored ports compared with 2018-19."
ACCC chair Rod Sims added: "While there may be justification for landside charges, excessive terminal access charges will nullify the benefits of greater competition between stevedores in providing services to shipping lines. However, regulation of these charges is for state and territory governments.
"Shipping lines contract with a single stevedore for cargo, and that means there is no direct competition in the provision of landside services. This makes these fees, to some extent, a 'take it or leave it' proposition for importers or exporters that have no direct choice of stevedore."
Indeed, transport operators have complained they are "held to ransom" by the "staggering" increases in the charges since 2017.
The ACCC noted the stevedores at the three largest ports of Melbourne, Sydney and Brisbane now charged in excess of A$100 per full container.
"Not only have charges increased each year, but higher landside revenues are now more than offsetting any fall in quayside revenues from shipping lines," ACCC said, noting the greater competition from the introduction of third terminals in Brisbane, Sydney and Melbourne, had resulted in falling revenues from shipping lines for each lift.
Neil Chambers, director of the Container Transport Alliance Australia, said the ACCC "couldn't be any clearer" in its concerns over the increasing terminal access charges.
"The issue of whether rampant stevedore charges should be regulated is a matter for state governments, yet to date, no state government has taken definitive action," Mr Chambers said.
Furthermore, with the average per lift revenue charged by stevedores to shipping lines falling 28% over the past decade, Mr Chambers questioned why terminal handling charges imposed by carriers on shippers were increasing.
"Have importers or exporters witnessed any of these savings being enjoyed by foreign container shipping lines being passed through in the form of lower charges in Australia? The answer is no," Mr Chambers claimed. "They can range from over $400 for a 20ft dry container to over $800 for a 40ft reefer. And, they have been going up, not down.
"In contrast, average revenue collected by the stevedores from transport operators for landside services has risen by 266% over the past decade. So, exporters and importers are effectively paying twice for the same stevedore terminal services."
The ACCC report also said stevedores' average labour productivity fell by 4%, with average truck turnaround times also deteriorating. Mr Chambers said higher charges with deteriorating service levels was "not a desirable trend."