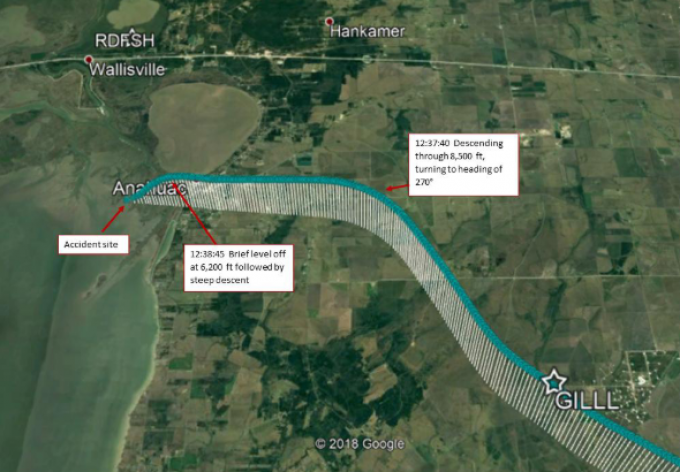 The three deaths in the Atlas Air crash last year have been blamed on pilot error and the Federal Aviation Administration's failure to create a central database, which would help carriers see a pilot's bad track record.
The US National Transportation Safety Board (NTSB) released its findings yesterday, which revealed that the first officer had an "inappropriate response" to an "inadvertant activation of the aircraft's go-around mode".
The board said it resulted in "spatial disorientation that led him to place the airplane in a steep descent from which the crew did not recover".
The 767, carrying cargo for Amazon and the US Postal Service, fell rapidly from 6,000 feet into a marshy bay, some 40 miles from Houston's George Bush Intercontinental Airport on 23 February 2019.
The NTSB added that "the captain's failure to adequately monitor the airplane's flightpath, and to assume positive control of the airplane to effectively intervene, contributed to the crash".
Another contributing factor was the aviation industry's selection and performance meansurement practices, which, the board said, failed to address the first officer's aptitude and stress response, and that his response was contrary to standard procedures and training.
Atlas Air, which is being sued by one of the relatives of the crew, said the loss had had a profound impact on all at the company.
Chief executive John Dietrich said: "The NTSB's report provides valuable findings that will help our company and the aviation community as a whole as we continue to improve safety across our industry.
"Of critical importance is the need for an improved federal pilot records database to provide airlines with full visibility of pilot history in the hiring process.
"We regularly evaluate our practices and protocols and, since the accident, have made several important enhancements to our own hiring, training, and pilot review procedures."
The NTSB has issued six new safety recommendations to the FAA, and reiterated six previously issued safety recommendations.
The new safety recommendations address flight crew performance, pilot-hiring process deficiencies and adaptations of automatic ground collision avoidance system technology. Two of the reiterated safety recommendations call for the installation of cockpit imaging recorders. The four recommendations reiterated and classified address maintaining accurate pilot training records, it said.