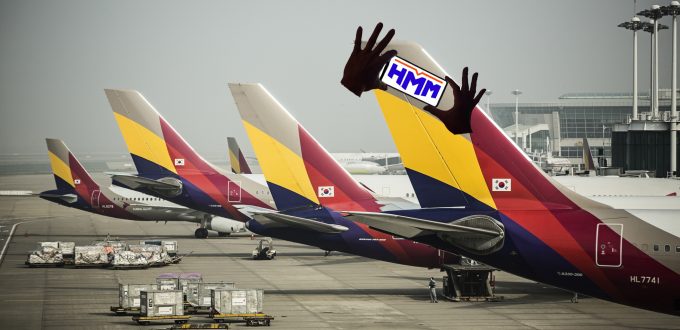 HMM CEO Kim Kyung-bae said speculation that the of South Korean flagship carrier could be forced to take over Asiana Airlines, to facilitate state divestment in the shipping group, were "groundless".
The state became HMM's main shareholder in 2016 after a debt-for-equity swap with policy lender Korea Development Bank and other creditors.
In 2020, as major airlines suffered losses from Covid-19-related restrictions, the South Korean government pushed for Korean Air to acquire its smaller compatriot rival, Asiana.
However, antitrust authorities in the US and UK expressed reservations about approving the merger, as both airlines operated direct flights between the countries and South Korea, raising competition concerns.
The local media has speculated that if the Korean Air-Asiana union fell through, the government may make Asiana a subsidiary of HMM to make the combined group more palatable to potential buyers.
There could also be synergies between HMM and Asiana's air cargo business, given the current trend of vertical integration among major liner operators.
There has been comment in South Korea that, as the container shipping market is expected to see a price war amid collapsed cargo volumes, HMM should go for vertical integration, or expand its dry bulk business.
But Mr Kim said: "It's difficult to say what is right about the two business directions and, since the current market is falling, we plan to tighten management rather than expand our business."
He added that HMM would be cautious about its investments this year, even though MSC, Maersk and CMA CGM are pursuing acquisitions to beef up their 3PL capabilities.
A spokesperson for HMM told The Loadstar the company was not in a position to discuss the state's divestment, adding that HMM would be "cautious about making efforts beyond its limits" as challenging market conditions were expected.
While investment will continue, said the spokesperson, HMM would not expand its business beyond what it can afford.