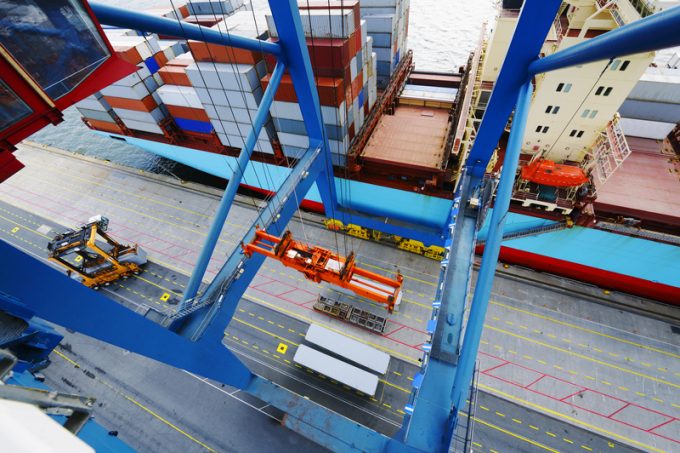 With a reading of 1,022.03, the Shanghai Containerized Freight Index (SCFI) comprehensive index is today 30% higher than it was 12 months ago, an upshot of carriers adjusting their capacity wisely in response to the reduced demand impact of the pandemic.
However, today's SCFI recorded further small declines for container spot rates across the main east-west trades – Asia-Europe and the transpacific – suggesting rates are past their peak and could be on a downward trajectory.
The Asia-US west coast component declined 3.2% this week, to $2,704 per 40ft, and has now fallen by more than $200 since the beginning of the month.
Carriers on the route have rushed to reinstate blanked sailings, THE Alliance announcing this week it was restoring four loaders in August, "in view of the increasing market demand".
But Freightos CMO Eytan Buchman believes market fundamentals could be weakening and said the demand spike was "partly driven by somewhat optimistic back-to-school orders".
He said there were "indications that the May and June improvements in the US economy are fading", which, combined with the expiration of unemployment benefits, could mean carriers may have to blank sailings again to mitigate reduced demand.
It would appear, therefore, that after an almost unprecedented run of three successful GRIs on the transpacific, carriers will struggle to implement their next tranche of increases from mid-August, including Hapag-Lloyd's massive $1,200 per 40ft.
On THE Alliance's transpacific strategy, Sea-Intelligence co-founder Lars Jensen said it was "inevitable" that, with carriers piling back capacity onto the route, rates would come under pressure.
"With more reinstatements now from THEA, we are likely to see the usual 'dance'," said Mr Jensen. "Carriers naturally want to be able to move as much product as possible when rates are spiking, but at the same time the influx of capacity will ensure the spike is temporary.
"Hence, it appears inevitable that rates on the Pacific headhaul will come under pressure. The interesting question is whether carriers will manage the rate abatement," said the analyst.
Mr Jensen said that "in the old days" the answer would have "almost certainly be no", but argued that given carriers' "successful track record over the past six months in capacity management", there was a real possibility there would not be a sharp drop in rates, "but rather a decline to a lower plateau that is still profitable for carriers".
Asia-US east coast spot rates also tracked down this week on the SCFI, falling 4.7%, or $162 per 40ft, to $3,297.
Elsewhere, the SCFI recorded a 1.2% decline for spot rates to North Europe, to $896 per teu, and a marginal 0.3% fall for rates to the Mediterranean, to $937 per teu.
Despite the introduction of extra loaders to North Europe by the 2M and THE alliances, a Chinese forwarding contact told The Loadstar ships were still sailing "pretty full" this week.
"Only a few carriers are offering discounts, but that could all change in August when the rollovers are cleared and the extra ships will need to be filled," he said.