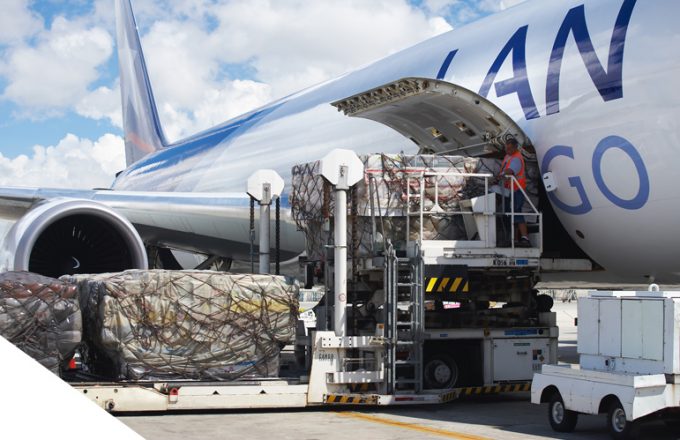 With a fourth converted B767 freighter joining its fleet, LATAM Cargo is gearing up for an increase in flights to Europe.
Meanwhile, the carrier's belly capacity is also on the rise in international sectors.
On 4 August, Latin America's largest carrier took delivery of the fourth B767BCF of an order placed last year to convert some of its passenger aircraft into all-cargo configuration.
"This freighter will allow us to strengthen our transatlantic offering, with more capacity from Europe to the US, and to further connect cargo to destinations in South America through strategic points like our Miami hub," said Andrés Bianchi, CEO of LATAM Cargo.
He added that the expansion would boost the carrier's capacity out of Europe by 160% over its 2019 level, as weekly frequencies between Europe and the Americas jump from seven to 13.
One of the new routes is going to be from Amsterdam via New York and Miami to Bogota, a second from Amsterdam via New York and Miami to Sao Paulo and on to Bogota, while a third will run from Amsterdam via Madrid to New York and Miami, continuing to Bogota. Each will be operated twice a week.
LATAM's third 767BCF, which joined its fleet in May, was deployed chiefly to provide lift out of Colombia and Ecuador, the largest flower producers in Latin America.
A B767 production freighter is scheduled for delivery next month. This will be used to open or resume routes between the Americas, as management intends to restart flights to Chicago and launch a service to New York, plus possibly one or two other US destinations.
"We plan to continue expanding services to and from markets that are relevant for our customers as the remaining freighters included in our growth plan are incorporated into our fleet," Mr Bianchi said.
The arrival of the fourth 767BCF brought the carrier's all-cargo fleet to 15, all 767s, with six more 767BCFs due to join the fleet next year.
While its freighter operation is expanding, LATAM is also rebuilding its passenger network and thus its bellyhold capacity. Last month, it reactivated 14 routes in Latin America, which brought its passenger capacity up to 80% of its pre-Covid level.
Latin American carriers, led by LATAM and Avianca, have ramped up their cargo operations aggressively. According to IATA, their cargo traffic in May was up 13.8% year on year, which was the strongest performance of all regions. Airlines from Latin America have outperformed carriers from other parts of the world since February in the growth of their cargo traffic.
Apart from providing direct bellyhold lift on routes like the recently launched Sao Paulo-Rome service, LATAM Cargo is also leveraging its passenger flights serving New York and Miami to offer greater connectivity for traffic on its transatlantic freighter operations.
"With more than 30 options, LATAM's cargo operators will offer the largest number of origin-destination alternatives between Europe and Central and South America, facilitating the carriage of pharmaceuticals, vehicle spare parts, and general cargo, among others," the airline proclaimed when it unveiled its transatlantic freighter expansion plans.
Since May, an additional connection point is Huntsville, which LATAM links once a week with Sao Paulo. This is a partnership with DSV, connecting LATAM's freighter to the forwarder's dedicated freighter flights from Europe.
DSV is not the only forwarder building maindeck links into Latin America. Yesterday, DB Schenker announced dedicated weekly charter flights from Amsterdam to New York and Miami and on to Sao Paulo, where the forwarder uses connections to Buenos Aires and Santiago. The flight, which uses B767F equipment, provides about 50 tons of capacity.