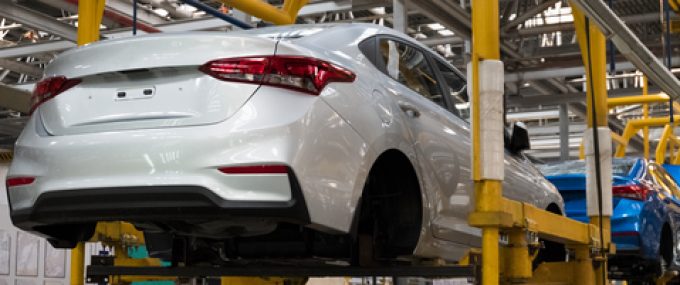 With the coronavirus crisis disrupting automotive assembly lines, suppliers are increasingly looking to ad hoc airfreight for help.
On-demand freight platform Cargobase has seen a 40% uptick in expedited volumes since the crisis began.
"About 60% of the shippers using us are tier-1 or -2 suppliers to the car manufacturers, who usually use the platform for 'expedites' or tool moves. Now, they use the platform to find solutions in order to avoid potential disruptions of their manufacturing process," said the company.
Cargobase shipments to and from China have doubled, and there's also been a "strong increase" between Europe and North America.
"Large part-manufacturers are trying to share inventory globally, but also source from alternative suppliers for parts," said Wiebe Helder, Cargobase's chief executive.
"From what we've heard, the situation is seriously going to affect manufacturers in the next few weeks, as they won't receive supplies that usually come in by ocean freight. That gap might deplete their inventory, leaving them no choice but look at airfreight alternatives," he added.
In Italy, which entered a China-like lockdown this week, there has been no disruption to air cargo operations so far, according to forwarders, although many passenger flights have been cancelled.
The epicentre of the outbreak in Italy is the country's northern manufacturing heartland, where around half of all production is linked to the automotive industry. Carmakers such as BMW, Daimler, Fiat, Peugeot and Volkswagen have reportedly been able to keep assembly lines moving, using air cargo in some cases for shipments normally reserved for sea or road freight.
Despite passenger flight cancellations worldwide, Cargobase saw a 55% increase in February bookings for onboard couriers, compared with January. It said the service allowed commercial shipments to be transported via carry-on or check-in baggage, therefore bypassing airport loading and collection times while remaining compliant with customs regulations.
"An onboard courier service is often used out of China to expedite exports, as the time to request for permits to organise air charters can take over a week," the company explained.
Global airfreight rates have spiked due to the reduction in bellyhold capacity – The Loadstar reported yesterday that ad hoc rates are expected to reach $10 per kg.
Cargobase noted a 50% increase in express airfreight "cost avoidance" – a calculation of the average quotation received, minus the booked quote.
"This indicates that average quotations received have experienced a surge, possibly due to providers raising rates due to the urgent situation."
To respond to the growing demand, Cargobase has launched a new service to allow shippers to use the platform within 24 hours of signing up, instead of the usual two-week onboarding process.
"More than ever, shippers have an urgent need to know what they are spending on freight caused by the disruption. For some, it is to make business decisions, and for others it is to claim back cost  to suppliers or customers," said Mr Helder.
"These are the times that the volume of emails increases significantly and people lose track of what is going on, while management still needs full transparency. Our platform helps with that."