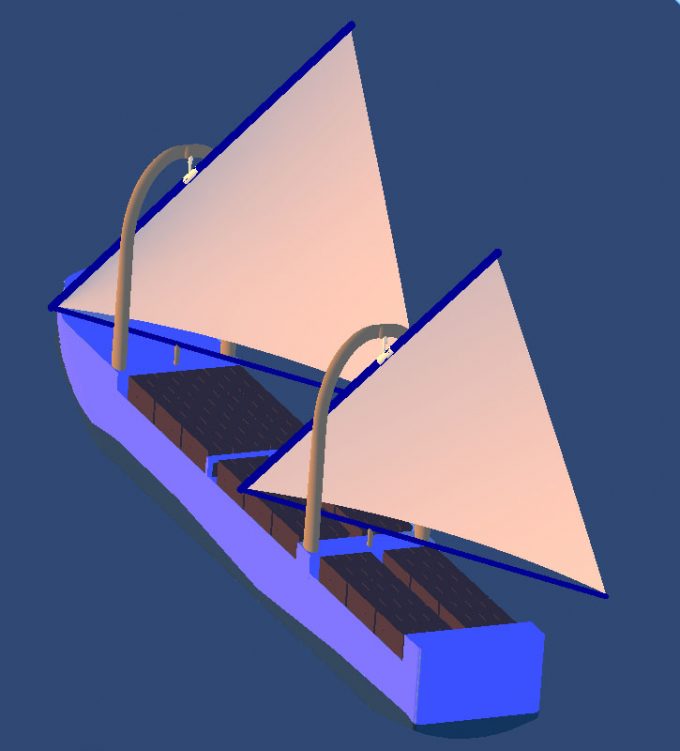 Small UK-based engineering firm Artec Vida has launched a feeder vessel design it believes will revolutionise the shortsea feeder market.
It would reduce vessel emissions by up to 85%, according to CEO Graham Ford.
The vessel is a 1,000 teu sailing ship, branded the Container Caravel, and the design uses hoops to support sails which are furled using modern technology.
"All equipment is computer-controlled using 'sail-by-wire' technology, including multiple back-ups that minimise the chance of failure," explained Mr Ford.
He added that designing a sailing containership with rigging that did not interfere with cargo operations was a challenge, since the "rigging often obscures the deck space".
The hoops allow the sails to move in any direction and they can be stowed out of the way during cargo operations.
Green energy will power small generators that will provide electricity for computer operations and motorised furling, as well as lights and navigation equipment.
"A larger 'regular/green-fuelled' generator would power rigging winches, etc, and auxiliary thrusters to provide motion and navigation when not under sail power (such as inland waterways, estuaries and harbours), or if becalmed at sea," explained Mr Ford.
Batteries will also store energy for use while in operation, with the thrusters available to increase vessel speed if necessary. The batteries can be recharged in port.