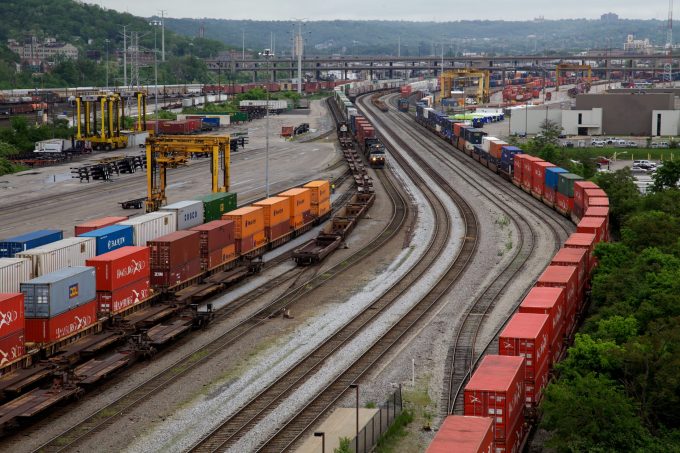 Concern over lengthening container dwell times at the ports of Los Angeles and Long Beach has caused US transportation secretary Peter Buttigieg to call on the railways to work harder to tackle the backlogs.
The line-up of ships waiting for berth space has diminished over recent months, but the ports and their users fear this could reverse if the railways cannot resolve the worsening build-up of containers.
Port executives have warned that the long-delayed fee for boxes remaining on their premises too long may be enforced, while rail executives face a grilling from the Surface Transportation Board (STB) this month over their handling of the situation.
Last week, 16,000 containers were at LA waiting to be loaded onto trains, according to Gene Seroka, the port's executive director. This is twice the number stuck there at the height of last year's congestion, which forced the Class I rail carriers to meter service.
Box dwell times at both ports have stretched: at Long Beach, average dwell time is about nine days, reports executive director Mario Cordero, while the Pacific Maritime Association show average box dwell times of 5.2 days in February, up from 3.5 in January.
The problems have been blamed on lack of rail equipment – from locomotives and rail cars to chassis – and manpower. Union Pacific (UP) and BNSF have ramped up service, brought equipment out of storage and increased their recruitment drives, but they have been accused of being slow to respond as the crisis unfolded.
Congestion has spread to rail hubs in the interior. Nearly 1,000 boxes were stranded at a Kansas City Southern ramp near Dallas, with reports that some shippers waited over a month to get their cargo.
BNSF has been struggling with intermodal disruption between Los Angeles and Chicago. In late March, the railroad reportedly began to place boxes on the ground in Chicago, indicating a shortage of chassis, one of the issues that brought about last year's problems. Lack of chassis has also been identified as a factor in the congestion near Dallas.
Rail carriers have expressed frustration over beneficial cargo owners holding on too long to boxes. In a message to customers, on 12 April UP warned it would start metering traffic if shippers didn't return their equipment quicker. UP and BNSF resorted to metering traffic to California last year in an effort to clear their backlogs.
The ports are also looking to take steps to free-up box flow. Both Mr Cordero and Mr Seroka warned that they could finally  impose charges on containers staying too long on the docks, measures formally announced in October but postponed so far.
The Biden administration has shown an active interest in tackling supply chain problems, so it was no surprise that secretary Buttigieg got involved. He reached out to the CEOs of the Class I carriers serving the California ports and urged them to address the container backlog at Los Angeles and Long Beach.
And they will face more intervention from the authorities at the end of the month. The STB has scheduled a public hearing on recent rail service problems and recovery efforts for 26 and 27 April. It summoned UP, BNSF, CSX and Norfolk Southern to the hearing and invited executives from Kansas City Southern and the two Canadian Class I carriers to attend.
The carriers will have to explain the actions they are taking to deal with the problems. STB chairman Martin Oberman set a frosty tone for the event.
"During my time on the board, I have raised concerns about the primacy Class I railroads have placed on lowering their operating ratios and satisfying their shareholders, even at the cost of their customers," he said. "Part of that strategy has involved cutting their work force to the bare bones to reduce costs.
"Over the past six years, the Class Is collectively reduced their work force by 29% – about 45,000 employees cut from payrolls. In my view, all this has directly contributed to where we are today. The railroads simply do not have a sufficient number of employees."