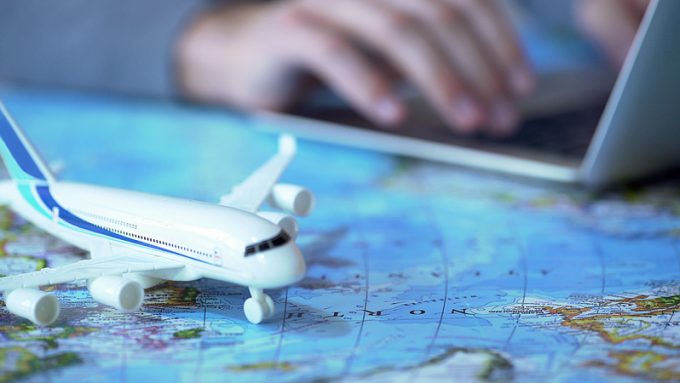 The move by forwarders into medium- and long-term air charters and their own controlled networks has not impacted the rise and rise of airfreight booking platforms.
Freightos' WebCargo platform has seen 300% growth, year on year, noted CEO Zvi Schreiber.
"It's very dramatic growth, which attracts more airlines, which then attracts more growth," he said, adding that Freightos now had more than 40 carriers on its books.
"It's great to see the industry getting its act together," he added.
And, while it has some 3,300 forwarders signed up, Mr Schreiber said 40% of bookings came from multinationals – 19 out of the top 20 airfreight forwarders use the platform, with a four-day time between booking and shipping, on average.
"We do a lot of spot business and blocked space agreements, and some of the biggest forwarders place big orders. You generally can't book more than between one and four tonnes, depending on the airline – most don't want very big shipments booked electronically.
"But it would be an understatement to say that the multinationals use us to 'top up' their capacity – a substantial part of their business remains in the spot market."
One region that has not taken up bookings online, however, is China, where the traditional use of master loaders, that have close relations with local airlines, has delayed progress for booking platforms.
"We will be putting more emphasis on China in the coming months. Airlines are seeing they can make better yields from forwarders," said Mr Schreiber, adding that another potential reason for the lack of growth was the larger volumes emanating from China.
The move by some shipping lines to focus on contract, rather than spot, business was a "mixed bag" for online booking platforms, acknowledged Mr Schreiber.
"Forwarders still want the spot market; Maersk Spot is growing, while CMA CGM is launching a spot product too. It's an interesting move, and affects us in different ways."
Despite launching last year, the Freightos Air Index, based on Freightos' booking data, is still in beta phase and not yet ready to rival the established TAC Index and the ability to offer index-linked agreements and derivatives, which Freightos has now done in ocean.
"It's still early days. There are some technicalities which we need to set up."
But the data has potential to be used in other ways, with the possibility of booking information being sent directly to airport community systems and handlers. But one IT executive warned that, very often, initial bookings were changed, or shipments not sent as booked.
A spokesperson for Freightos said about 10% of its bookings ended up with "an alternative option".
"Bookings can change for a variety of reasons. For example, on Freightos.com, one of the most frequent reasons for price changes is dimension changes, not changes in shipment available.
"On the initial bookings, it varies greatly based on the airline. How the changes are made depends on the specific airline and its integration capabilities. Many of the changes are indeed made through WebCargo directly."
But she added: "There is an immense potential for freight procurement data to be integrated into a wide variety of sources, whether it's directly to the supplier for pick-up, to banks for improved trade financing, to receiving warehouses and, of course, the actual providers involved in the shipments."
To hear about future demand and capacity supply in air cargo, listen to this Loadstar Podcast clip of Glyn Hughes, director general of TIACA.