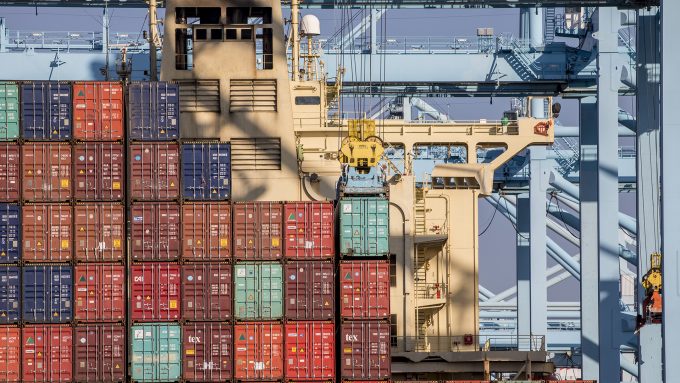 Exports from the top ten US container ports slumped by 8.3% in July, compared with the same month of 2020, to 763,619 teu, while imports gained 14.3% to 2,096,076 teu, according to data from Blue Alpha Capital.
The New York-based consultant said the divergence between import and outbound volumes at US ports had widened last month to a new record ratio of 2.75x, compared with a 2.19x average in 2020 and 1.85x for 2019.
And with import records on course to be broken again this month, the trade gap is set to widen further.
According to Blue Alpha Capital founder John McCown, the impact of tariffs on exports has combined with equipment shortages and action by carriers to hobble the nation's export market.
"While the impact of tariffs looks to have dissipated for container imports, volume data strongly indicates they are having a more adverse effect on exports," he said.
Exports from the west coast hub ports of Los Angeles and Long Beach plummeted by 27.6% and 20.7%, to 91,439 teu and 109,951 teu respectively, in July, while imports grew by 2.9% at LA, to 469,361 teu and by 1.6% at LB, to 382,940 teu.
However, if the backlog of cargo on ships at anchor in San Pedro Bay awaiting berths were to be factored in, the import numbers would be considerably higher.
According to Gene Seroka, executive director of Port of Los Angeles, July's exports were the lowest since February 2005. And he said exports had declined in 29 of the past 33 months at LA, and that empty container exports were now running at more than three to one to loaded boxes.
"Our largest export commodity continues to be air as we reposition empty containers back to Asia," said Mr Seroka.
And there seems to be no let-up in sight in US consumer demand for Asian imports, evidenced by the port's Signal forecaster of cargo destined for LA terminals, which predicts a year-on-year surge of 59% in volumes this week and 29% for the first week of September.
On Friday, the neighbouring port of Long Beach announced the completion of the final phase of its Middle Harbor all-electric facility, which, in addition to its state-of-the-art green credentials, will increase throughput.
The third, and final, phase of construction was concluded last month, incorporating 14 ship-to-shore gantry cranes and a 1,280 metre quay, capable of accommodating three ULCVs.
But despite the new facility at Long Beach, Blue Alpha Capital's July throughput figures provide further evidence of the acceleration of modal shift from the highly congested US west coast ports to the east. Indeed, July's single-digit 3.9% import growth for the west coast was dwarfed by the 27.7% surge for boxes arriving at US east and Gulf coast ports.
Containers discharged on the east coast last month were recorded as 1,023,398 teu, against the 1,072,678 teu off ships that managed to berth on the Pacific coast.
This suggests the east coast container ports, with their capacity for growth, relatively uncongested berths and more reliable rail intermodal services, will eventually dominate – as long as demand remains elevated.