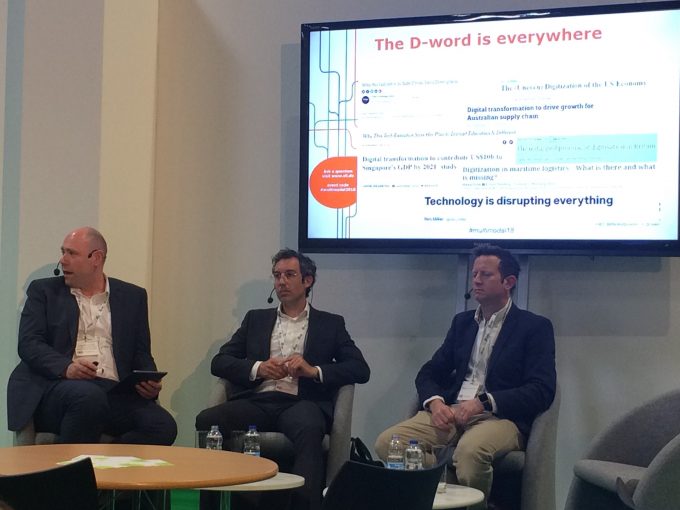 Technology providers have urged shippers and freight forwarders to embrace the wave of digitisation and disruption sweeping across logistics and supply chains –or face "getting squashed".
Simon Clark, vice president of business development for WiseTech Global, told delegates at yesterday's Multimodal event in Birmingham that some two-thirds of UK warehouses did not even operate a warehouse management system.
In response, Mike Holdsworth, transportation sector development director for satellite comms giant Inmarsat, said it was "imperative" for 3PLS to innovate.
"Otherwise they might simply get squashed," he said.
"Right now is the time to be looking to invest in things such automation; we are right at the point where IoT is key, and you should at least be researching these technologies just to survive.
"The UK government is testing truck platooning on the UK roads right now, and in industries such as aerospace, automotive and pharmaceuticals, we will see widespread deployment of robotics.
"The companies serving those industries have to understand that robots and automation will come into use wherever there is a commercial imperative to improve efficiency."
And he predicted a future for freight that would be dominated by robotic operations.
"I don't believe we are too far away from a time when cars will roll off a factory production line, drive themselves to a port, load themselves onto a ferry – which will probably also be unmanned – and then, ultimately, drive themselves to the end consumer."
However, this would not spell the end of the freight forwarding business, argued Gary MacGregor, director of marketing and sales at Nexiot.
"Freight forwarders are the original innovators; it is what their business model is based on and there are still great opportunities for them and the industry to hugely improve service levels, thanks to increased use of technology.
"Look at the growing self-service capabilities: a top-10 shipping line gets about 400,000 phone calls a month, mostly asking about incorrect documentation, shipment status, or a vessel status.
"All these queries could be handled without humans having to talk to each other, thus freeing up a vast amount of employee time to concentrate on what humans are really good at – which is customer service and creating more value through innovation," he said.
"I really hope that this year the industry will move from concentrating on cost, to concentrating on value and value-creation that facilitates more business."