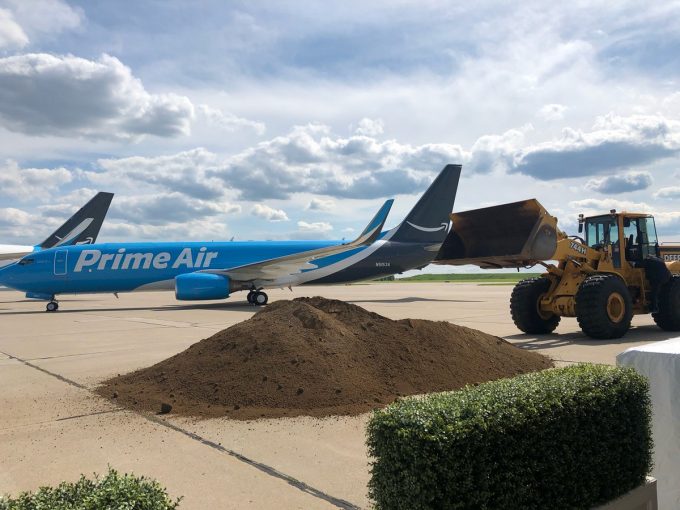 Amazon chief executive Jeff Bezos may be "super-excited" that work has commenced on its Cincinnati air freight hub, but concern has risen over pilot welfare.
Mr Bezos attended yesterday's ground-breaking ceremony for the $1.5bn facility at Cincinnati-Northern Kentucky International Airport (CVG).
"This site will let us get packages out to customers faster, and that is a big deal," he told assembled media."We are going to move our prime service from two days to one, and this hub is a big part of that – I'm super-excited."
Plans for the hub were announced at the start of 2017, and the first phase is expected to go online in 2021, creating more than 2,000 jobs.
Phase one will consist of around 800,000 sq ft of sorting facilities and 24 aircraft parking spots, allowing it to operate 32 aircraft from CVG on 64 flights a day.
The final phase will more than treble sortation space to 2.6m sq ft and add 76 parking spots for aircraft, and is expected to be finished by 2026.
Senior vice president of Amazon's worldwide operations Dave Clark said: "We couldn't be more excited to add 2,000-plus Amazon employees to join the more than 10,000 who work with us today across our robust operations in Kentucky."
However, the pilots of Atlas Air – which operates Amazon Prime's fleet – have expressed serious concerns over the treatment of those flying for Amazon.
The executive council chairman of Atlas Air pilots (and a captain himself), Robert Kirchner, told WLWT News the ground-breaking ceremony's closed-door status "spoke volumes".
"It shows that the powers that be are trying to suppress as much of the pilots' point of view as possible, controlling the message," he said.
"Pilots are being worn out, which does not work well for the future of this operation; we are seeing a lot of delayed and cancelled flights. This is down to the pilot shortage and stressed staffing situation at Atlas right now… Atlas is a stressed carrier."
Another Atlas pilot that flies for Amazon told Dayton Daily News he was happy to see the online giant breaking ground at the site. But Michael Russo added that this came at a personal and professional price for the pilots working on the "strained" schedules required by the company.
"As pilots and employees of the company profiting immensely from this expansion, we're happy to have new customers; we're happy to see the growth. Our concern is that the rate of the expansion is feeling unchecked, we're afraid our companies are not communicating to Amazon the limitations we have as an organisation."
Mr Russo questioned whether Atlas and other Amazon-contracted carriers would be able to keep up with the training, recruiting and maintenance demands of the operation.
And Mr Kirchner and Mr Russo are not alone, the Teamsters union has recently staged protests over worsening conditions for pilots.
ABX Air representative Captain Rick Ziebarth, a pilot for Wilmington's ABX Air and executive council chairman for his firm's pilots of Teamsters Local 1224 said: "New business combined with a severe retirement problem has caused the workloads of pilots to strongly intensify without any improvements to working conditions."