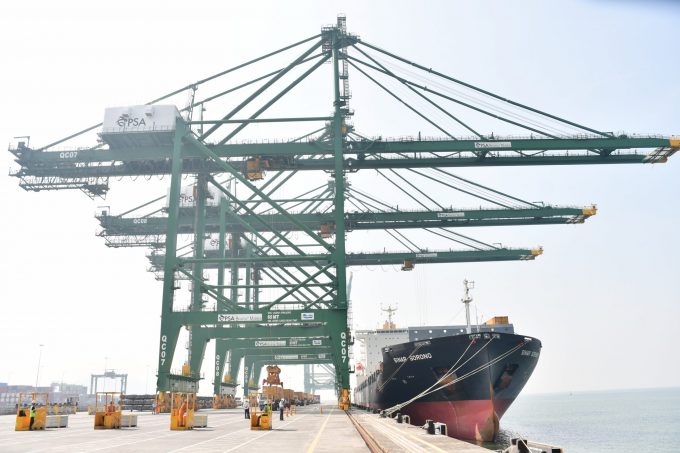 Singapore-based X-Press Feeders is the latest player to join the regional shipping race amid buoyant volumes at India's Jawaharlal Nehru Port Trust (Nhava Sheva).
X-Press Feeders has announced a fixed-day, weekly connection to rotate Singapore, Port Klang, JNPT, Mundra, Singapore, designed to operate with three ships of 1,250 to 1,350 teu capacity.
"The Singapore India Express (SIX) service will add to our Straits-Nhava Sheva and Mundra coverage by providing additional frequencies each week," said X-Press Feeders.
As Indian exporters scramble for vessel capacity, opening new feeder connectivity for transhipment options to the traditional Colombo (Sri Lanka) mode seems to have become a "holy grail" for regional shipping lines trying to take advantage of the surge in demand fuelled by Covid-induced consumerism across major global markets.
X-Press Feeders' move follows feeder calls added by Samudera Shipping Line (SSL) and DP World's shortsea arm, Feedertech, at JNPT last month, with major liner ONE joining the former with an eye on Indian transhipment cargo.
With more call additions, JNPT saw combined throughput hit a new high of 5.63m teu last year, 26% up on 2020's 4.47m teu.
More notably, in just over three years, PSA International's Bharat Mumbai Container Terminals (BMCT) became the second busiest operator at JNPT, its growth rate outpacing long-established DP World and APMT facilities. Last year, volumes galloped to 1.17m teu, up 42% year on year.
By volume, APMT Mumbai led the pack with 1.85m teu, while DP World's newer NSIGT racked up 1.16m teu and its older NSICT contributed 964,409 teu. JNPT's own terminal, JNPCT, on its way to be privatised, handled 482,397 teu.
With the SSL service that debuted at JNPT on 29 November, BMCT has 10 weekly sailings and the terminal saw a record 54 container vessel calls last month. If its growth momentum is sustained, the 2.4m teu capacity BMCT will attain a 50% capacity utilisation in its fiscal year that ends on 31 March.
MD Sivakumar Kaliannan said: "With congestion experienced at many other ports, PSA Mumbai has become a choice terminal to catch up on vessel schedules. In the first ten months of 2021, when 40% of services were off-schedule, 80% of these vessels were still able to berth on arrival at PSA Mumbai."