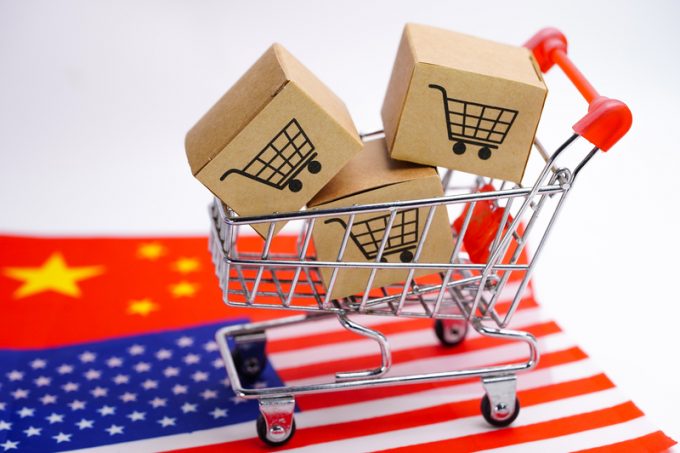 US importers of Chinese goods valued below $800 may lose their exemption from tariffs, if a proposal from the US Customs & Border Protection agency (CBP) moves forward.
On 2 September, CBP asked the US Office of Management & Budget for regulatory review of a proposal entitled Excepting Merchandise Subject to Section 301 Duties from the Customs De Minimis Exemption [of $800].
"I think the biggest impact would be on AliExpress imports, including Wish, one of the largest marketplaces in the US, which could have a meaningful impact on e-commerce," said Mike Scheschuk, CMO of Jungle Scout, which provides a platform for selling on Amazon.
China's e-commerce exports have soared, and according to one prediction, will climb beyond $199bn by 2022, up from $100.2bn in 2017, and the government is doing its bit to foster international growth through its cross-border e-commerce (CBEC) project.
It has set up dedicated pilot zones for this, where users enjoy exemption from enterprise income, value-added and consumption taxes on retail exports. The scheme, designed to boost both imports and exports of e-commerce goods, now covers 105 cities and regions across the country.
Section 301 duties on e-commerce imports from China would raise a number of compliance issues for online merchants and their logistics providers, and it would push up the landed costs, with clearance fees and assorted charges on top of the duty.
Brandon Fried, executive director of the US Airforwarders' Association, estimates this could translate into an increase of up to 30% on some items.
There would likely also be repercussions on transit times, said Mr Fried, adding that clearance of goods in transit would still be possible, "but we should probably expect more CBP examinations to assure compliance with the increased duties."
The cost increases would come on top of higher transport costs in the wake of the new fee structure of the US Postal Service (USPS) for delivery of parcels mailed from China. According to Seko Logistics, these have soared up to 150% since the new USPS charges on 1 July.
Last week, Seko unveiled a new service aimed at Asian e-commerce shippers designed as an alternative to the postal avenue. In addition to an airfreight product, the firm now offers a ocean service with 20-22 days door-to-door transit and is fully trackable. Compared with the postal tariffs, this offers cost savings of 20-25%, according to Seko.
Brian Bourke, Seko's chief growth officer, said the CBP plans could potentially bring a change, but he was "not fazed" by it.
"It's not a high concern," he said. "There are still a lot of unknowns. There are commodities where that would apply, and others where it would not."
He is also philosophical about regulatory developments: "If there's one thing that's constant, it's change. There are always new regulations, new frameworks, but one thing is for sure, commerce will continue," he said.
With the US election looming, some players hope for a shift in US-China relations if there is a new administration, which could see a reduction or alleviation of the tariffs, said Mr Fried. He is not holding his breath, though.
"Word has it here in Washington DC that Biden might even keep them in place if he were to win," he noted.