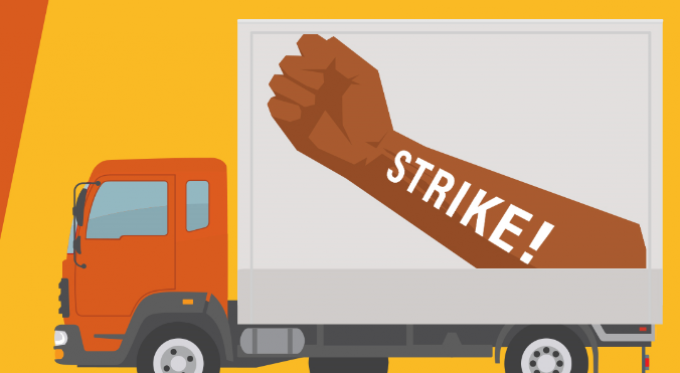 A confrontation between truck drivers and Universal Logistics, one of the largest trucking firms in southern California, has spilled into the port of Los Angeles.
On Monday, drivers started a strike, picketing a truck yard of Universal Logistics subsidiary Southern Counties Express in Compton, demanding the company reinstate drivers allegedly dismissed illegally and respect the right to unionise.
In addition, they called on management to negotiate 'in good faith' and stop classifying drivers as independent contractors.
The action was organised by major union the International Brotherhood of Teamsters.
Union port division director Ron Herrera said: "The Teamsters refuse to stand by as Universal Logistics Holdings-affiliated enterprises illegally fire unionised drivers and deliberately transfer their work to locations with drivers misclassified as independent contractors in order to keep making billions in profits off their backs, avoiding accountability."
The strike comes just weeks after the National Labor Relations Board issued a complaint against Universal Logistics, claiming the company dismissed all drivers employed by its Universal Intermodal Services arm shortly after they had voted to become represented by the Teamsters union.
It says the firm then illegally transferred work from the newly unionised outfit to Southern Counties Express, which employs its drivers as independent contractors.
Further, the complaint alleges that Universal also got rid of many drivers at its Roadrunner and Universal Truckload affiliates in retaliation against efforts to unionise in both outfits. The board's complaint describes the operations of the affiliates of Universal Logistics as a single integrated business enterprise, constituting a 'single employer'.
It also takes aim at the status of drivers at Southern Counties Express, arguing that they were misclassified as independent contractors, which denies them basic protection like sick leave, unemployment and health insurance.
The confrontation highlights other clashes over labour unionisation, which recently gained attention after Amazon workers voted on unionisation in Alabama, and battles over the classification of drivers as independent contractors.
Universal Logistics has not commented on the issue.
Yesterday, the clash between the company and organised labour spread to the port of Los Angeles, where members of the International Longshore and Warehouse Union sided with the drivers and declined to service trucks owned by Universal Logistics at one of the port's terminals.
According to the port authority, that terminal experienced "minimal to moderate traffic disruption" as a result.
Faced with congestion stemming from a host of factors – delayed vessels, clogged-up docks and shortages of containers, chassis and rail cars – the last thing the ports of Los Angeles and Long Beach need now is a serious clash between employers and labour unions adding to the headaches of importers moving goods through the port complex.