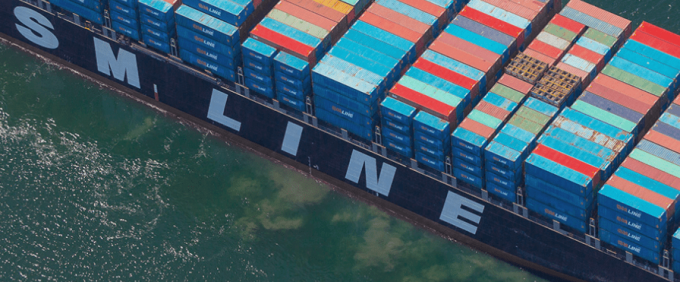 Yesterday's partnership agreement between 14 South Korean shipping lines falls far short of the consolidation needed to bring them significant benefits, according to Alphaliner.
The Korean Shipping Partnership (KSP) was announced by the Korea Shipowners' Association (KSA) and is supported by the Ministry of Maritime Affairs and Fisheries.
The companies are Hyundai Merchant Marine (HMM), CK Line, Dongjin Shipping, Doowoo Shipping, Dong Young Shipping, Hansung Line, Heueng-A Shipping, KMTC, Namsung Shipping, Pan Continental Shipping, Pan Ocean, Sinokor Shipping, SM Line and Taiyoung Shipping.
It is part of the South Korean government's strategy to revive the nation's shipping sector after the collapse of 'national' carrier Hanjin Shipping last August.
However, Alphaliner said: "Previous attempts at forging a deeper cooperation between Korean carriers have resulted in limited success."
It cited the example of HMM+K2, inked in January between HMM, Sinokor and Heung-A on the intra-Asia route. Alphaliner said that, to date, the agreement had resulted in slot swaps of "less than 1% of the total intra-Asia capacity deployed by the three partners".
According to the KSA, the new KSP is expected to establish an operating framework by the end of the year and commence full operations early in 2018. Areas of planned cooperation include fleet replacement and expansion, route rationalisation and new services and the development of joint international terminal operations.
However, in the view of Alphaliner, the South Korean carriers "are expected to remain disadvantaged, due to their fragmentation and lack of scale" against the major carriers serving the route, such as Maersk, MSC, Cosco and Evergreen.
The consultant argued that the KSP members themselves "remain fiercely competitive", illustrated by the rebuttal of the highly ambitious SM Line's attempt to join the HMM+K2 consortium.
And on the transpacific tradelane, HMM and SM Line are involved in a bitter battle for volumes in the space left by the demise of Hanjin, which had an 8% share of the market.
Further, aside from the announcement by the KSA, The Loadstar failed to find any reference to the KSP cooperation on any of the websites of the 14 members. This lack of PR was also noted by Alphaliner.
It said: "While some Korean carriers are keen to receive government funding to prop up their weak financial positions, the KSP initiative appears to have received tepid support from the carriers themselves."
Alphaliner believes the "excessive competition in their common markets" can only be dealt with by a "fully fledged consolidation" of the South Korean shipping lines.
It added, however, that radical compatriot mergers similar to that of China's Cosco and CSCL, and the Japanese container businesses of K Line, MOL and NYK, would "appear to be remote, in the Korean context".