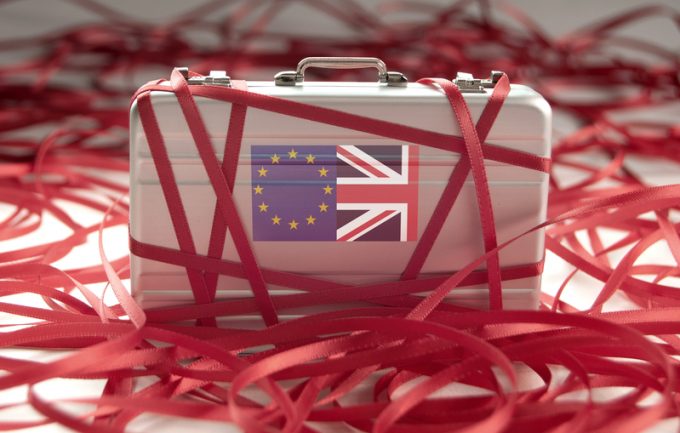 With regard to the decision by DB Schenker to cease its EU-UK service a few days ago, I have to say I was surprised. But from the stories I have been hearing in the marketplace since 4 January, maybe I shouldn't have been.
I say this as – even though I completely understand that we have just left the simplicity of the Single Market behind – the fact is that regardless of the deal that the UK and EU managed to agree, everyone (customers included) knew at least a year ago that Customs declarations would be required from 1st January 2021.
I realise that many of the European operators tend to be Europe specialists and so they have existed in a non-Customs environment since the inception of the Single Market in 1993, but let's not overcomplicate this.
Leaving delivery duty paid (DDP) moves aside, which are not practical for most shippers intra-Europe for several reasons, freight forwarders have offered "door to door" (or Incoterms DAP) services on a global basis for many years, be that London-Los Angeles or Singapore-Frankfurt for air and ocean traffic so we're not re-inventing the wheel here.
Of course, this is a seismic change to the way European companies have traded with each other for 27 years and the many stakeholders, be they exporters, importers, forwarders, Customs or governments clearly aren't on the same page.
And everything was ridiculously late, be that the UK/EU Trade & Cooperation Agreement (TCA) or border/Customs systems themselves, e.g. the Trader Support Service (TSS) which seems to have fallen over, holding up deliveries to Northern Ireland.
The TCA was only published on 26th December, and only then did we learn about the 67 pages governing Rules Of Origin. That definitely was not helpful to industry or importers/exporters, but there is clear guidance on what an export declaration should look like, and how to ascertain if a product meets the test for EU or UK origin.
Aside from the Rules Of Origin "curved ball", I do wonder whether there's been a lack of industry understanding of the key steps involved in a DAP movement and the vital preparation required to offer a door-door service (DAP) from EU-UK or the other way.
DB Schenker, along with many other EU specialist operators will have regular ongoing customers from the EU-UK and I am sure that, as DB Schenker customers, many exporters and importers would expect it to begin preparations with them months in advance to ensure that shipments could continue to flow. For example, on DAP exports from the EU, engaging with UK importers and setting up arrangements for Customs clearance, approval to use the deferment account and agreeing commodity codes / procedure codes for the shipments in advance, as well as setting up a credit account for the Customs clearance costs, any duty/VAT and outlay fees. At SCL, we issued a detailed and updated bulletin on 1st October highlighting the key steps for importers and exporters to take and this is still downloadable from our website.
In DB Schenker's defence, one thing which cannot be prepared for in this way are the one-off or "ad-hoc" shipments where a forwarder has never dealt with the exporter or importer before, and for these shipments, the forwarder should not even take a booking until every box is ticked, it will only cause delays, upset the customer and delay other customers' shipments.
As mentioned above, the Rules Of Origin will have meant that exporters and forwarders alike had to digest this new information and set about changing IT systems, invoice formats and forwarder booking screens to accommodate this information, which is vital for the import declaration. So, only knowing this five days before was unhelpful, unprofessional and extremely damaging from a business standpoint, and in my opinion, this responsibility lies at the door of the UK/EU governments.
With regard to their apparent request for every UK importer to sign a Letter of Direct Representation to perform Customs clearances, almost all forwarders will act as Direct Representatives by default (which means they are not liable for any Customs debt or legally responsible for declaration errors) and will show this in their terms and conditions.
To be honest, I think this a little over the top and it will only confuse and worry customers unused to the new  Customs processes even more.
In the last 10 years at Straightforward Consultancy, dealing with many small, medium and large forwarders, I can recall only two occasions where forwarders we engaged insisted on a signed Letter of Empowerment (LOE), giving them formal authority to submit Customs declarations, and even then it seemed that it was more about their own internal compliance processes. Even if they felt they needed a LOE, for regular customers, could this not have been set up beforehand as part of a Brexit-readiness process?
To summarise, I remember preparing import Customs entries in the 1980s and of course we had many imports from the EU, with whom we had a free trade agreement. It was simple, if it was made in say France, the exporter issued a T2/T2L document to confirm that and this allowed us to clear the shipment free of duty. It wasn't onerous, it was normal, and I really can't understand why we can't just see that all we're doing here is moving shipments, just like freight forwarders always did.
Can it really be that with all the advances in technology, we're struggling to carry out basic international movements between an exporter and an importer?
It's not rocket science, guys.