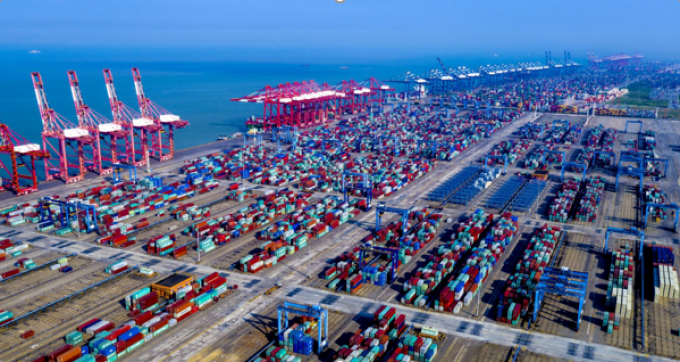 In the aftermath of the Yantian port congestion crisis, South China container trades could be set for a schedule shake-up.
According to Johannes Nanninga, Europe CEO at the port of Nansha, the week-long suspension of export operations at rival Yantian International Container Terminal (YICT) in May/June "left a trail of disruption" for container logistics across the Pearl River Delta (PRD).
He told The Loadstar: "I think it has really opened carrier and shipper eyes to alternative ports, not only in Shenzhen but also in Guangzhou, and led them to review contingency plans after the mayhem."
He said Nansha saw 60 extra vessel calls due to the congestion in Yantian, totalling 200,000 teu, but such a sudden inflow of extra cargo also caused operational challenges.
"It started to push a lot of pain points, such as the traffic situation and extra transfers between PRD terminals," Mr Nanninga explained.
For example, he said, there was a lot of different documentation required, due to Covid restrictions, as well as more traffic accidents, caused by drivers less familiar with roads in the western PRD, where Nansha is situated.
Nansha also experienced its fair share of yard and road congestion during the height of the bottleneck last month, but Mr Nanninga said this had "more or less" been solved.
THE Alliance added a direct call at Nansha in April, he said, which meant all the major carriers were now familar with the port, making it easier for them to add more sailings on the major east-west trades – a big goal for Nansha, previously a predominantly intra-Asia hub.
"I don't think it will happen overnight, but we have been told that certain schedules will change because of what happened," said Mr Nanninga.
According to YICT, however, by the end of June, Yantian "welcomed over 20 new international services and will have three more new services in July," with "more new services expected".
Furthermore, Akhil Nair, VP global carrier management and ocean strategy at Seko Logistics in Hong Kong, said he doubted there would be any major port swaps taking place.
He said: "The recent congestion did lead to some carriers swapping Yantian for Nansha on an ad-hoc basis, however at the moment there is no firm commitment to the idea that this could be permanent, as there is really no need for it. Nansha is further up river and would lead to a deviation of perhaps an additional half-day.
"Diversification wise, it makes sense for forwarders, but it depends on the objective – the same Far East westbound services, for example, will not gain any benefit by adding Nansha as opposed to Yantian.
"However, there might be some benefit to add two calls in South China to allow for this diversification.
"But with the current alliance-based operational management of shipping lines, there are a lot of stakeholders who need to agree to this. Additionally, if we add a port, this further deteriorates proforma schedules and, given there are no extra ships to deploy in the near term, I do not see carriers changing their service structures."