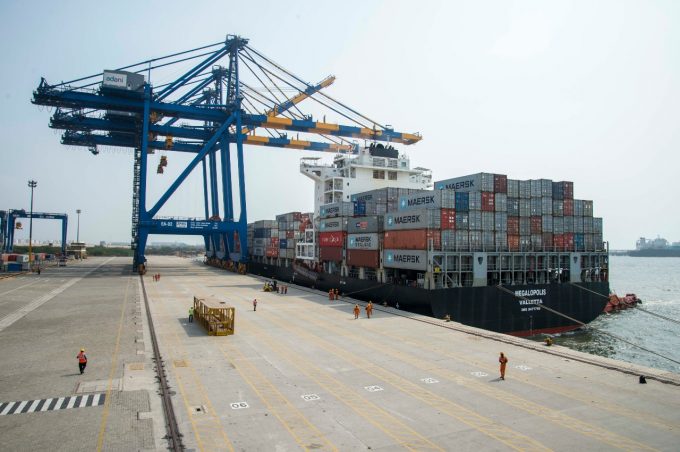 Cargo owners in India believe the easing of container freight rates across the major tradelanes in June will be short-lived, with the peak season hitting in July.
After months of sky-rocketing rates and acutely tight equipment supply, freight forwarder sources said average contract rates for North America, Europe and intra-Asia routes had seen double-digit declines this month.
Costs for exports from the ports of Nhava Sheva (JNPT) and Mundra on India's west coast to the US east coast (New York) are down to $8,317 per teu, from $10,090 last month, and $10,500 for a 40ft, down from $12,700, a 17% decrease. Freight to the US west coast has seen a 13% decline, on average.
June rates on the India-Europe trades have also dropped: from west India to London Gateway, carrier contract pricing is now hovering at around $6,009 per 20ft, versus $7,615 in May, down 21%, and at $7,141/40ft, down 11% compared with $8,015 at the end of last month.
In the intra-Asia market to China, Hong Kong and Singapore, average pricing has fallen between 10% and 25%, data suggests.
Industry observers attributed the pricing correction, in large part, to better equipment availability, with cargo diversions from Sri Lanka's Colombo Port – lately caught up in multiple bottlenecks – to Indian east coast ports helping that inventory flow.
Shippers and freight forwarders, however, fear the pricing respite could be temporary, with projections that rates will shoot up again next month as the industry heads into peak season.
"There are also some indications that larger carriers are changing strategies by keeping more inventory on hand for the peak season period," a Mumbai-based forwarder told The Loadstar. "At the moment, the pricing situation is better than in the past few months."
A new analysis by equipment marketplace provider Container xChange seemingly aligns with those findings, noting: "While the global average container prices have increased by up to 15% in May, the average container prices in India have declined, similar to the trend observed in China and many more countries worldwide. There has been a continued month-on-month decline in the prices of 40ft high-cube containers in Chennai from $4,044 in April to $4015 in May, while the prices in the ports of Nava Sheva and Mundra have increased."
Container XChange CEO Johannes Schlingmeier noted that the crisis plaguing Colombo presented an opportunity for more transhipment volumes for Indian east coast ports, but it would be an enormous task for them to turn that potential into a long-term reality.
"While cash-strapped Sri Lanka works towards emerging from the macroeconomic dysfunction, India has an opportunity to get itself some permanent shipping diverts towards its shores," Mr Schlingmeier said.
"However, there is much work to do for Indian ports to woo Colombo-bound ships, starting from increasing their draught size to match that of Colombo's to developing strategically placed ports on shipping routes. Starting from scratch might not be the key here, rather expanding the already-present ecosystem will reap more benefits in the long run and get India its place in the global value chain."
Sunil Vaswani, executive director of the Container Shipping Lines Association (CSLA), added: "Southern Indian ports like Tuticorin, Cochin and Ennore need to be able to accommodate larger vessels in terms of length/beam and draught to be able to offer themselves as a viable alternative to Colombo. Ennore has a draught limitation of 15 metres, whereas Tuticorin can accommodate vessels up to 310m, with a draught of 14.2m, and Cochin, up to 335m/draught 14.5m.
"On the other hand, Colombo can accommodate vessels of up to 395 metres and 17 metres draught."
You can contact the writer, Angelo Mathais, India correspondent, at [email protected]