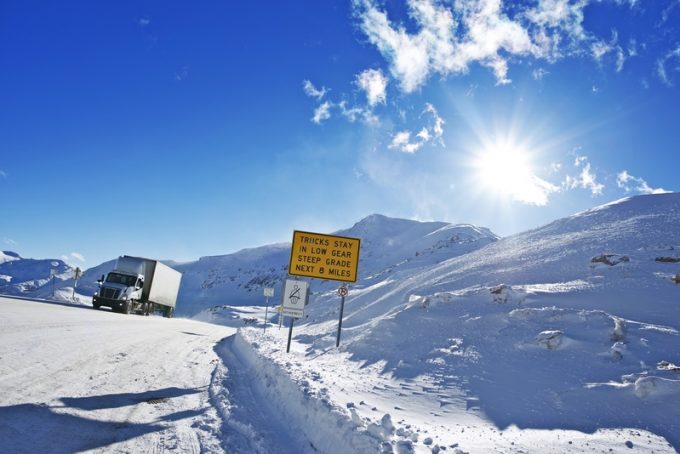 Shippers are fearing for their bottom lines amid claims the US truck driver shortage will intensify after a year in which hurricanes and high demand drove up rates.
Online forwarder iContainers said rates had soared for long-distance trucking across the country, with an "unexpected rough" winter in southern states compounding the problem.
Tyson Foods told Transport Topics it expected to pay an extra $200m in transport costs this year, while Kellogg's said it was accounting for a 10% increase.
In trucking, carriers have reportedly upped prices by 30% in response to surging demand, despite being "hard pressed" to add capacity amid a dearth of drivers.
Bloomberg Intelligence analyst Lee Klaskow backed up the view from iContainers, while others have suggested that higher wages in the construction industry could make it harder to tempt people into trucking.
Mr Klaskow said: "We suspect capacity should be tight all year, given the acceleration in economic activity and more competition for labour." He also said the enforcement of the ELD mandate in December could take as much as 10% of long-distance trucking capacity out of the market.
The regulation requires electronic logging of truck drivers' hours to ensure they stick within mandated limits to prevent fatigue-related accidents.
While many larger carriers had already installed ELD systems, Mr Klaskow said the smaller operators had been slower to act. In the three months since ELD introduction, iContainers said it had faced as many as three truck cancellations a week – which it ascribed to ELD.
Vice president of sales and operations Klaus Lysdal said: "The current situation is still going to last a while, and it will basically get worse before it starts to improve. The pressure on the market right now will probably have to exist for a while to facilitate an industry-wide rate increase."
And while he said driver shortages were not a recent problem, a confluence of factors including financial ones – wage expectations – and ELD were exacerbating the problem.
He said the problem had been spreading from the US midwest – particularly hard hit – along the east coast.
"In the northern states they are used to dealing with winter weather putting more pressure on the trucking market and with ports and rail yards closing operations," he added. "This causes some delays, but it's a seasonal problem.
"But the winter hit a lot harder in the south this season and it's caused a lot more damage. Not only was no one prepared for it, most of the state traffic departments were ill-equipped to handle snow.
"Neither were the roads built for snow and many roads suffered a lot of damage from the cold. Bad roads cause more truck breakdowns and flats, so it's really all interconnected."