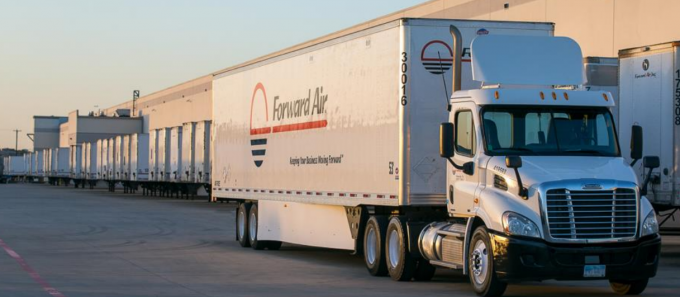 As it prepares to unveil its financial results for the fourth quarter of 2020, Forward Air is facing headwinds from a group of activist investors led by former executives.
Ancora Advisors, which holds a 6.3% stake in the trucking company, has sent an open letter to shareholders asking them to elect four candidates it has nominated for Forward's board of directors.
Ancora, which includes Forward founder Scott Niswonger and ex-CFO Andrew Clarke, acquired 5.3% of the company late last year and subsequently boosted its stake to 6.3%. In a filing on the initial acquisition Ancora stated that it had plans to make changes to Forward's management team and board, as well as its investment strategy.
The letter to shareholders argues that Forward has much potential, but "has been hampered by a board that has provided poor operational oversight, pursued an ineffective capital allocation strategy, focused on acquisitions of margin- and return-dilutive service offerings, and failed to optimise the company's balance sheet".
Forward's management had rejected Ancora's proposals for change, which prompted the decision to contest four of the 10 seats on the trucking firm's board, the investor said.
According to Ancora, Forward's margins in the expedited sector have declined, whereas competitors like XPO or Old Dominion have seen gains.
Their biggest criticism targets Forward's investments and 'strategic shift', which have shown a stronger focus on last-mile activities. According to Ancora, spending almost $1bn on acquisitions and capital expenditures in non-core activities have diluted margins and diminished returns on investment.
Forward's shift to final-mile activities started with the acquisition of Towne Air Freight in 2015 and gained momentum in 2019 with the takeovers of FSA Logistix and Linn Star Holdings. Forward president, chairman and CEO Tom Schmitt described the final-mile sector as a key area of growth for the company.
Ancora has also criticised Schmitt's dual role as chairman and CEO, arguing it should be split.
Forward has officially acknowledged receipt of Ancora's letter on its website. In a statement it declares that members of the board and management have held "numerous and extensive discussions" with Ancora, including Messrs Niswonger and Clarke, over the course of several months.
"Through these discussions, the board determined that it is either already executing on – or intends to undertake – many of the initiatives suggested by Ancora. In the areas where the parties disagree, the board and management believe we can create superior value under the Forward strategic plan currently being executed," it declared.
Nevertheless, the board says it has made several "constructive settlement offers" to Ancora, most recently on 27 January to add three new directors to the board, with two positions to go to members of Ancora, but this was rejected, Forward management claims.
However, it said: "While we believe this proxy contest is unreasonable and disregards multiple constructive settlement offers by the board, we remain committed to constructive and reasonable engagement with the Ancora Group moving forward."
Forward is due to announce its results for  Q4 20 tomorrow and has scheduled a conference call with investors and financial analysts.
The results have been dragged down by a cyber attack which hit the company in mid-December and affected its activities for about a week. In a filing with the US Securities and Exchange Commission, the company said its net income per diluted share from continuing operations for the fourth quarter would be 53-55 cents, down from its previous estimate of 71-75 cents.
"Adjusting for these impacts, the company expects it would have exceeded the high end of its net income per diluted share guidance range," Forward said in its filing.
The results of the shareholder vote for the company's board are due to be announced in May.