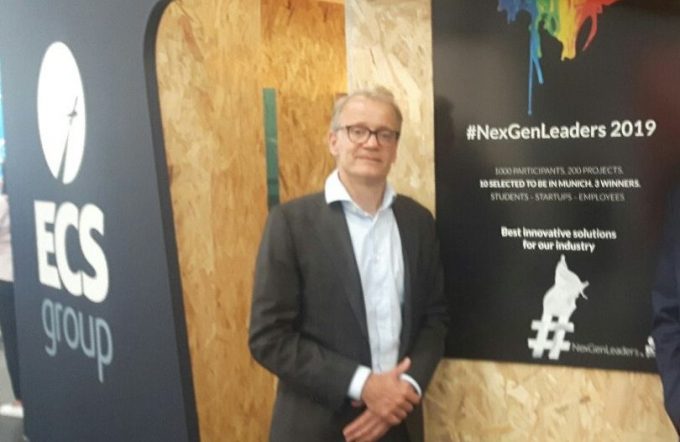 Two Dutch teams won ECS Group's NextGenLeaders awards, an innovation initiative set up by the GSA group.
In a ceremony this morning at Air Cargo Europe in Munich, ECS announced winners Niall van de Wouw of Clive for his Selfie App, in the start-up category, while Rutger Smulders won the student category for his technology which improves shipment acceptance, handling and pallet build-up via augmented reality.
The ECS staff category was won by Jonatan Jimenez Aceituno for his Cargo Assistant tool, which offers information and assistance to forwarders, airlines and GSAs, across multiple devices.
ECS announced its innovation initiative last year, and received some 1,000 entries, which were then whittled down to 10 finalists. Each entry was given the support of industry mentors.
The Selfie App, which redefines the way load factors are calculated, and has 19 airline participants, launched last week.
"This award is a great boost for the roll-out of the service," said Mr van de Wouw. "I am very thankful to ECS, which put in so much effort and professionalism. ECS asked a lot from us – but was very supportive.
"There's a saying that the world is often unkind to new things; new things need friends. Well, ECS is that friend, and its support has been priceless."
Mr Smulders, a student of aviation and logistics at the University of Applied Sciences in Amsterdam, worked with KLM and Champ to develop his idea.
"I am very excited by this," he said. "I am working with Champ to take this to the next level and to get the proof of concept started, and turn it into a real product."
ECS appears to have kickstarted a trend. Earlier this week Liege Airport, together with partners Alibaba and Qatar Airways, launched an innovation project, WeCargo Innovation Lab and Summit, which will result in a four-day Hackathon in November.
"We hope it will help to fix some of the problems we see in air cargo," said Steven Verhasselt, head of cargo for the airport. "It will be a chance to introduce innovators to seed investors.
"It will bring a new generation of service suppliers to the industry. The industry is changing and needs to grow intelligently. I am looking forward to seeing new ideas for it."
Guillaume Halleux, head of cargo for Qatar Airways, added: "I've been in this industry 20 years and we do business the same way we always have. There will be a lot of interesting outcomes from this.
"When Liege approached us with this opportunity, we really wanted to be part of it."
An Alibaba executive said it would help the company "make sustainable innovations … and help its ecosystem."