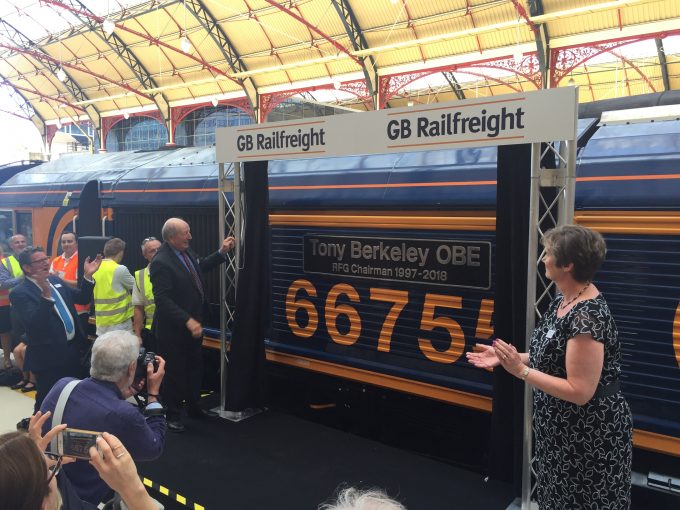 Tony Berkeley, chairman of Rail Freight Group (RFG), has had a train named after him and commissioned for a special trip to celebrate his career.
Lord Berkeley, who retires this year after 20 years as RGF chairman, set off with selected guests on a GB Railfreight (GBRf) train from London Victoria, around the south-east before returning to London for a reception.
GBRf managing director John Smith and RFG executive director Maggie Simpson paid tribute to Lord Berkeley's career, applauding his "tireless work" to enhance and support open access, modal shift and the future growth of rail freight by consistently pressing the case both at Westminster and among UK business.
Ms Simpson said: "Tony Berkeley leaves the sector wholly transformed from the one he joined some 21 years ago. His leadership, commitment and sheer determination have been instrumental in delivering that progress.
"I know I can speak for all RFG members, both past and present, in thanking him for all he has done and wishing him a very happy and well-deserved retirement."
Lord Berkeley said he was genuinely surprised and delighted to have a locomotive named in his honour.
In turn, he paid tribute to industry stalwart and former RFG board member Jim Clark, head of rail at WH Malcolm, who died recently.
GBRf was joined in the sponsorship of the event by Direct Rail Services, DB Cargo, Freightliner, WH Malcolm and Kilbride.