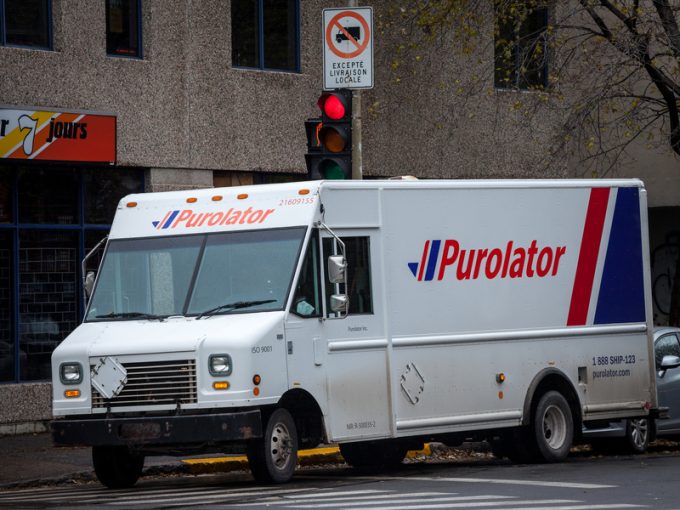 With so many political and economic uncertainties, 2019 has been anything but a banner year for investment, but Purolator Courier reckons now is the time to act.
Canada's largest express carrier, a subsidiary of Canada Post, is splurging a cool C$1bn ($761.22m) to ready itself for the years ahead.
According to Purolator president and chief executive John Ferguson, the investment plan for the coming five years will "future-proof" his company's business.
"Purolator has experienced record growth over the past three years. We picked up and delivered over one-quarter of a billion packages in 2018 and we expect our growth trajectory to continue," he said.
"This investment will solidify our position to deliver the future for generations to come, creating opportunities across North America and around the world for businesses, consumers and employees."
Arguably the future has already begun. Two weeks after the announcement of the investment plan, Purolator shifted gears on the final mile with the official launch of a seven-days-a-week service for e-commerce called QuickShip.
"In the next five years, we anticipate that 50% of the delivery market in Canada will be direct-to-home, with consumers expecting quick and reliable deliveries at times convenient for them, like evenings and weekends," said Mr Ferguson.
QuickShip, which offers a choice of same-day or next-day delivery, was trialled in Vancouver and has now been rolled out in Toronto, Montreal and Ottawa. Other locations may follow.
Extending deliveries to Sundays does not require fundamental changes to linehaul and network and should be achievable without huge investment, explained Dean Maciuba, director consulting services at Logistics Trends & Insights.
Achieving good traffic density is another matter, but Purolator has fared well on that front, according to Mr Ferguson.
"We have enough clients to allow the minimum density we need," he said, adding that the new offering had met with "lively demand" and more merchants had signalled interest to shift their operation to a seven-day-week model.
Purolator's delivery volume has gone up 25% over the past three years and the company moves a million parcels a day at peak times. Consumers' first choice is delivery to their home, but it is vital to offer multiple delivery options, Mr Ferguson noted.
To broaden consumer access, the parcel firm is upgrading its high-traffic stores in large urban centres and is planning to partner with retail chains. In addition, it is expanding its Mobile Quick Stop service: trucks that act as retail outlets on wheels.
Purolator has boosted its workforce by 2,500 over the past three years and has also taken steps to modernise and expand its vehicle fleet, which continues in the five-year investment plan. Over 1,000 vehicles will be added to the fleet this year and next.
Another vital piece of the puzzle, Mr Ferguson said – and at C$330m the biggest ticket item on the investment agenda – is a new national 'super hub' in Toronto, a 430,000 sq ft facility set to open in 2021. It will triple capacity from the current Toronto hub. About 60% of Purolator's volume will go through the facility.
The company's international focus has been largely on Canada's southern neighbour, where it operates a network of 30 locations offering cross-border solutions. Elsewhere it has worked with partners to move traffic into Canada and feed it into its extensive national network.
"We have aspirations to have our own capabilities in key markets like the UK and parts of Asia," Mr Ferguson added.