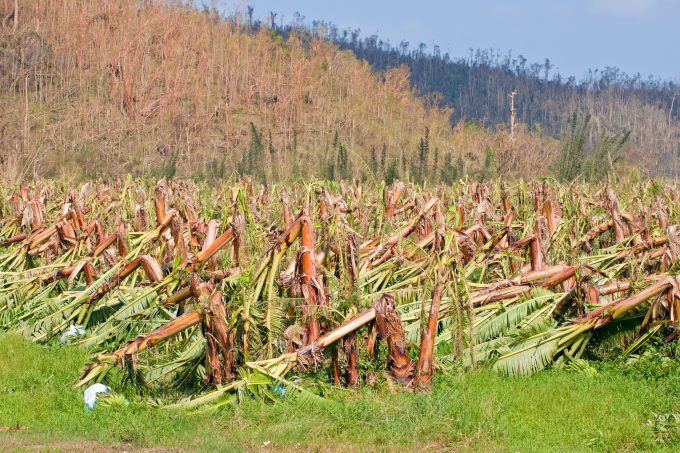 Severe weather conditions taking a heavy toll on many crops are hurting perishables exporters – and their misery is compounded by high freight rates that erode margins.
In Europe, the climate has taken a heavy toll on agriculture, with double-digit declines in grain output across much of central and Eastern Europe.
Owing to heavy rain and flooding, Ukraine's wheat harvest looks set to amount to a paltry five million tonnes, which marks a 75% slump from last year.
In Germany, which has suffered drought and record high temperatures, wheat output is down 25% and some grain and rapeseed farmers may lose as much as one-third of their crop this year. The farmers' association has called for $1.2bn in drought relief.
North America is also suffering. This year's cherry crop in the US was a far cry from last year's bumper harvest. California has produced some three million cases of cherries, down from 9.7m in 2017, while Washington state yielded less than 20m crates of the stone fruit, more than 4m fewer than last year.
In Kenya, flower growers enjoyed record volumes in the first two months of the year, but the following three months saw a record low output, reports Conrad Archer, regional head of perishables, MEAC region, at Panalpina.
And in South America, growers have been affected by cold and rain over the past three months, he added.
Global orange production is forecast to reach 47.8 million tons this year – 6 million tons less than in 2017 – due to the impact of weather in the US and Brazil.
On top of this, the industry is struggling with significantly higher transport costs. Fresh Produce Delmonte posted a net loss of $5.6m for the second quarter of this year, down from a profit of $69.8m a year earlier.
The firm blames this on "uncontrollable factors, led by congestion, delays and inclement weather at our loading ports in Central America", besides higher commodity costs and a tighter transport market.
Its inland logistics costs in North America climbed $13.4m, due to port delays, higher fuel costs, the truck driver shortage and the impact of new driver regulations. The firm's ocean freight costs were up 3%, largely fuelled by a 30% increase in bunker fuel prices.
Meanwhile, shippers from Kenya have had to absorb a general increase in airfreight rates, but again this is not the end of their woes. Freighter airlines have announced that they are resuming volumetric charges, which they had stopped back in 2010, Mr Archer noted.
Airlines have shown flexibility during the low season, but they have indicated that they will take a firmer stance come October, he added. For some types of flowers, this will make a considerable difference. The cost of moving large-headed roses will go up 10-15% as a result of these volumetric charges, Mr Archer said. And this comes on top of a 10% rate increase earlier this year.
The capacity outlook offers some solace, however. Qatar Airways has cut one weekly freighter rotation, but otherwise there have not been any major reductions, while the reduced output should avert a stampede for lift.
We're not expecting a shortage of capacity," Mr Archer said.